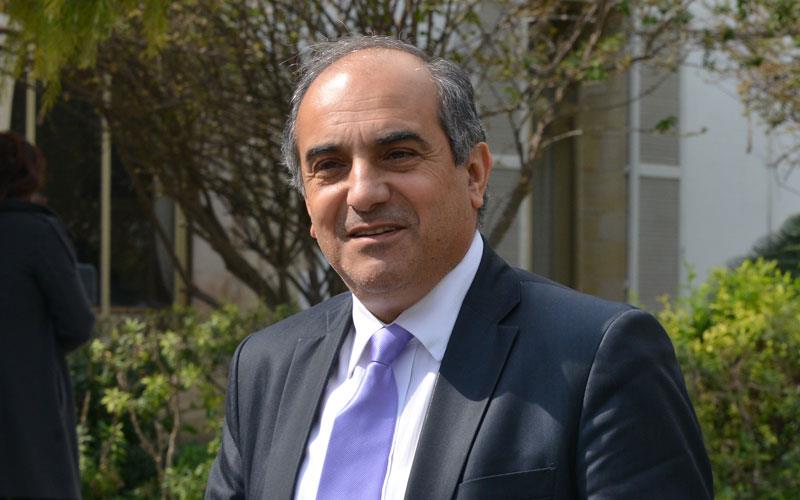 The President of the House of Representatives, Demetris Syllouris, concluded yesterday his second day of contacts with EU officials, in Brussels, with separate meetings with the President of the European Parliament, Antonio Tajani, the European Commissioner for Humanitarian Aid and Crisis Management, Christos Stylianides, the Chairman of the EPP Group, Manfred Weber, the Chair of the Confederal Group of the European United Left–Nordic Green Left, Gabriele Zimmer, and the Co-Chairman of the Greens–European Free Alliance, Philippe Lamberts.
During his contacts Mr Syllouris had the opportunity to thoroughly brief his interlocutors on the latest developments in the Cyprus problem, noting the need for the EU to exert pressure toward Turkey for the resolution of the issue. All of Mr Syllouris' interlocutors underlined their support vis-à-vis the continuation of the dialogue and the efforts to reach a settlement.
More specifically, EP President Mr Tajani conveyed his disappointment over the failed talks in Crans-Montana, as well as his solidarity with the efforts made for the termination of the Turkish invasion and the attainment of an agreement on the basis of European values and principles.
For his part, Cypriot Commissioner Stylianides referred to Cyprus' role in the Middle East as the stronghold of European values within an uncertain and volatile region. He added that Cyprus is able to assist the region of the Middle East through its capacity as EU member state and also due to its historical ties with the area.
EPP Chairman Mr Weber said Europe should stay united and maintain a common position on Turkey. He pointed out that Cypriot citizens, as European citizens, should feel protected by the interests of the 28 member states vis-à-vis Turkey. We need honesty in the relation between the EU and Turkey and that will be our goal at the forthcoming European Council, he asserted.
For her part Ms Zimmer expressed the need for the peace talks to resume under the aegis of the United Nations. We know what it means for a country to be divided, she said, calling the EU to support all efforts to return to the negotiating table in order to achieve a viable settlement.
Furthermore, Mr Lamberts conveyed his concern with developments in Turkey, while noting that this concern was even more evident for the people of Cyprus due to the geographic proximity with Turkey, which maintains occupation troops in the island's northern part.
The President of the House also had the opportunity to exchange views on issues pertaining to the United Kingdom's exit from the EU, the future of Europe, as well as other current European matters such as the migration issue, security issues and youth unemployment.
In addition, Mr Syllouris gave a press conference at the premises of the Republic of Cyprus' EU Permanent Representation in Brussels, during which he briefed Greek and Cypriot media representatives about his contacts in the Belgian capital and replied to their questions.
The House President returns to Cyprus this evening./IBNA