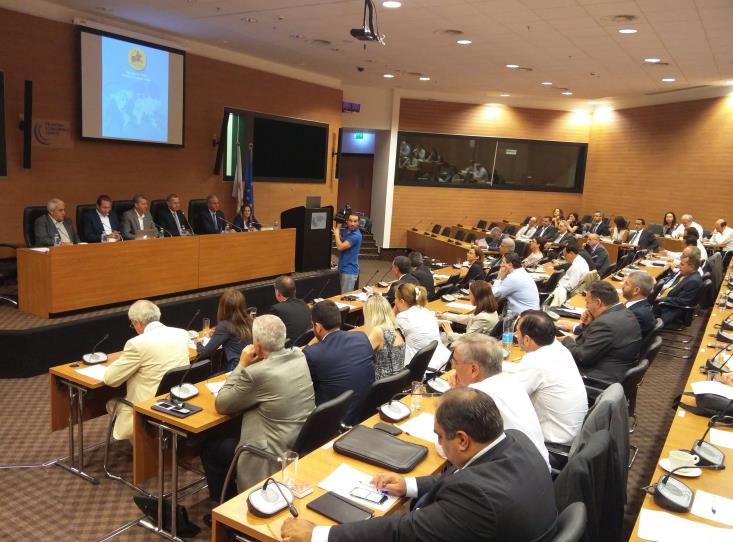 Nicosia, July 29, 2016/Independent Balkan News Agency
A quadripartite meeting of the Parliamentary Committees of Foreign Affairs of Cyprus-Greece-Egypt and Israel on the issue of energy will be proposed by the Cyprus Committee, said on Friday Yiorgos Lillikas, Chairman of the Committee.
The members of the Foreign Affairs Committee had a meeting today with the Heads of the Cypriot Diplomatic Missions Abroad in order to exchange views and discuss ways of cooperation and mutual assistance in the field of diplomacy and the promotion of the positions of the Republic on the Cyprus problem.
In statements before the meeting, Lillikas said that the Committee's  desire is the development of initiatives within the context of the parliamentary diplomacy, in order to assist and enhance the work of the Foreign Ministry in the field of the international relations.
The Permanent Secretary of the Ministry of Foreign Affairs, Ambassador Alexandros N. Zenon, said that the Ministry attaches particular importance on the parliamentary diplomacy. He added that except from the exchange of views, the Ambassadors and the Members of the Parliament will share ideas for closer and more effective cooperation between the Parliamentary Committee and the Foreign Ministry.
Replying to a question, Lillikas said that the Committee has already decided to organize visits to some EU member states which have a false approach to the Cyprus problem.
At the same time, one of the proposals submitted by the Committee is to undertake an initiative in the framework of the tripartite cooperation between Cyprus, Greece and Israel and between Cyprus, Greece and Egypt in order to organise a meeting of the four countries on parliamentary level of Foreign Affairs Committees on the issue of energy and on how to develop the energy resources of the region to the benefit of all the countries.
"It is easier at a parliamentary level to achieve the participation of all the four countries than at the level of the governments", he concluded.
Cyprus has been divided since 1974 when Turkey invaded and occupied its northern third. UN-led talks between President Anastasiades and Turkish Cypriot leader Akinci have been underway since May 2015, aiming to reunify the island under a federal roof.
Source: Cyprus News Agency
Photo: Cyprus News Agency