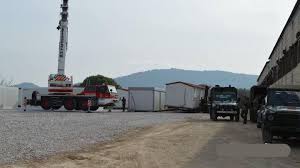 Athens, February 15, 2016/Independent Balkan News Agency
By Spiros Sideris
The opening of the Temporary Refugee Accommodation Center "HELPE VILLAGE" in Chios, which was constructed with the assistance from "Hellenic Petroleum", announced the company on Sunday.
The Centre is located in the area of ​​the former factory of Viale, at the village Halkios, of the municipality of Kampochorio and for its operation Hellenic Petroleum offered infrastructure and equipment.
It can accommodate over 1,100 refugees in 75 bungalows, which were restructured according to the required international standards before being transported to the island. Of these, 67 shelters have dormitories, furniture and cooling systems – heating, and cover a total area of ​​2,655 square meters and 8 more which cover 309 square meters have been turned into toilets.
For the completion of the Center HELPE cooperated with the Defence and Interior ministries, while the Fire Brigade and the Greek Army also provided their help.
According to the planning, the refugees will remain in the hot spot up to 72 hours for their identification, while as head of the Center will take over an officer of the Greek Army.
A delegation of HELPE will arrive on the island on Monday, headed by CEO Gregory Stergioulis. The HELPE delegation will meet with representatives of local government and social institutions of the island, and is expected to announce measures in favour of the inhabitants.
In the mission are involved volunteers who will distribute to refugees 200 backpacks with personal hygiene and food items. In an attempt to help in the creation of the Temporary Accommodation Center,  the employees of the Group gathered items for the personal hygiene of the refugees.
The hot spot in Chios is the second which open its gates. So far only the only operational center is in Lesvos. The government has announced that until Wednesday, February 18 all other hot spot, which are sited in Samos, Leros and Kos will also open its gates to refeugees.
At the same time, more temporary hospitality refugee spaces are being created in Thessaloniki (Diavata) and Piraeus (Schisto).