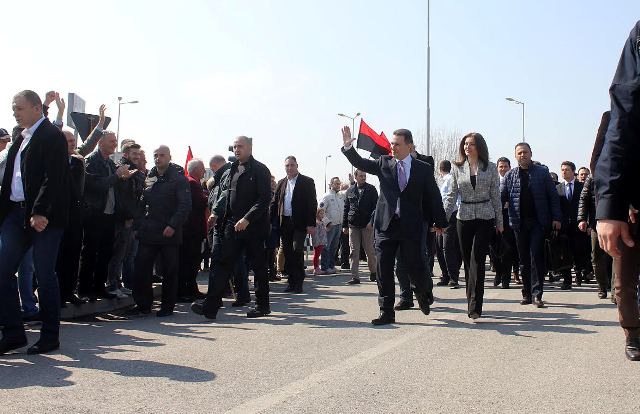 IBNA Special Report
Skopje, March 16, 2015/Independent Balkan News Agency
By Naser Pajaziti
Instead of finding a solution for the political crisis, parties in FYR Macedonia continue to address strong accusations. The biggest political parties VMRO-DPMNE and SDSM (Macedonian Social Democratic Union), continue to lead a tough campaign in two camps.
On one side, SDSM and its opposition partners have continued with the publication of registered conversations that relate to scandals and corruption affairs concerning the current government.
"This conversation shows how PM Gruevski has appropriated two attractive plots of land in an area of 13 thousand square meters in Vodno, suburb of Skopje, with a value of 5 million Euros. Gruevski and his collaborators have traveled by van in the capital in order to find good locations. After they've found them, they have ordered urban planning to be changed", Zaev declared, adding that these properties have been purchased through "off shore" companies abroad.
Opposition leader has once again demanded the resignation of the government and the creation of an interim government.
"The only solution is the resignation of Nikola Gruevski and his cabinet and then the formation of an interim government to take the country out of the deep political crisis", Zaev declared.
But, on the other hand, prime minister and leader of VMRO-DPMNE, Nikola Gruevski held a rally where he said that there will not be early elections and interim government. He replied to the Macedonian opposition that he doesn't accept its proposal for an interim government.
Gruevski accused the opposition leader, Zoran Zaev that the idea for the change of the name of the country lies behind the agenda to seek an interim government.
"People are the strength of VMRO. People know our weaknesses and criticize us for our mistakes. We don't want anyone from abroad to bring us dark scenarios; we want to deserve the trust of the people to government. The people do not seem them as an alternative, because people want responsible politicians which can offer high standards, jobs and better living standards. People demand answers and solutions for vital problems. People are hearing 'the bombs', but they are not approving them", Gruevski said.
Film director, Ljubisa Georgievski says that with the so called "bombs", the opposition is aiming at ruining the country and to spark hate.
"They initially organized a coup d'etat within their party and elected as leaders people with average professional qualities. The aim of our enemies is for us to lose control. In this situation, the country needs an opposition, but not like this one who is a true mockery. Opposition MPs must urgently come back to parliament, while the government must continue its work", declared film producer Ljubisa Georgievski.
Ismet Ramadani, head of the Euro-Atlantic Council, a non government organization, told IBNA that the wiretapping scandal reveals the fact that this government has lost its legitimacy among the people.
"Current state leaders say that they have legitimacy, but they do not understand that they no longer have it. How can the government be chaired by a man who orders unlawful actions", Ramadani said, adding that the only solution consists of an interim government, which will approve the necessary reforms. /ibna/