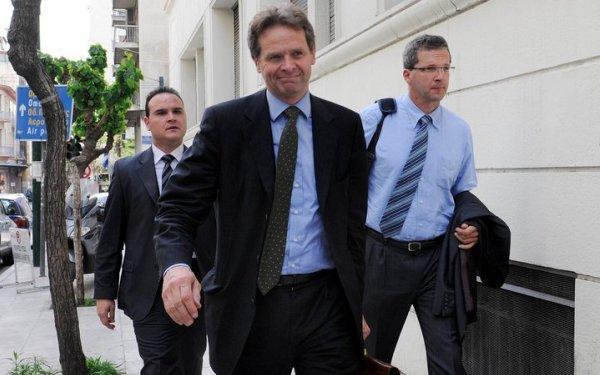 By Spiros Sideris – Athens
The Greek government is waiting for the Troika's response regarding the Defense Systems, the restructuring of which is the last prerequisite for the disbursement of the installment.
A new meeting at 15:00 in the afternoon with the Minister of Finance, Gianis Stournaras, and at 18:00 in the afternoon with the Minister of Development Kostis Xatzidakis, is arranged for today, Wednesday, with the head of Troika regarding the evaluation of the Greek program.
On Monday, after Eurogroup's conference, Giannis Stournaras had estimated that the disbursement of the installment will take place in December, a fact that was confirmed later by Brussels.
The final decision of the government foresees that the GDS are being restructured, with the shrinked military section that will remain maintaining its exporting nature. If its function does not prove to be viable in a time span of 12 months, then it will be purged, while remaining operational, in the fashion of the Hellenic Vehicle Industry S.A. (ELVO) model.
If the proposal is accepted, the financial staff hopes, then the Eurogroup's Conference of Experts (EWG) will meet immediately after the phone conference, in order to approve the disbursement of the rest of the 1 billion euro of the Support Program's installment, which had initially been approved for July.
Nevertheless, it should be noted that, according to a member of the government, when Brussels speak of an agreement they do not only refer to the installment's initial requirements.
There are many "thorns" in the negotiations:
VAT for the restaurants
Property TAX
Main residence auctions
Layoffs in the private sector
Commercial leases
Denationalizations
The gap of the 2014 fiscal year
The gap of the 2015-2016 fiscal years
The government and the Ministry of Finance promised to work on the issues regarding the next evaluation (the one's that should have started in October and have finished in November) before the end of the year, with legislative regulations, so that when Troika returns in January, they will not have to start from ground zero. Such a development could possibly be related to expectations for the disbursement of the first… drop from the next 4.9 billion euro installment in mid February. It will also serve to support the message that the government is trying to pass in the critical five month period before the coming elections.
In order for this to happen it is required that –apart from the case of the Defense Systems, which is a matter of 24 hours- the legislative regulation for the release of the auctions, as well as the next package of layoffs will have "closed".