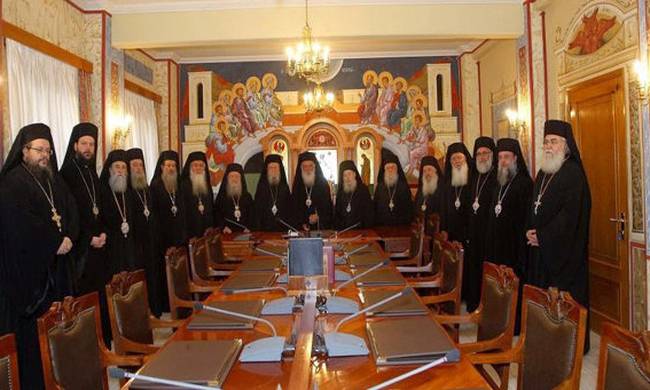 Athens, December 10, 2015/Independent Balkan News Agency
By Spiros Sideris
The Holy Synod of the Church of Greece has decided to adhere to its past position that the alternative family forms are family aberrances, before the imminent submission to Parliament of the bill on the extension of civil partnership to same-sex couples.
In its communication, it reiterates that it sticks with the decision of the Holy Synod of Bishops that took place on October 17, 2013, when it dealt in detail with the family institution in the context of the contemporary crisis, which decision updated the BIS in its Session of June 19, 2015.
Then, inter alia, it was emphasised that "current phenomena-aberrances for the greek reality is civil marriage, the single parent family, the cohabitation and the so-called marriage of homosexuals" and stressed that "out of respect for the value of human beings derives the rejection of any institution-substitute, such as civil partnerships, with which is attempted the degradation of family life at the level of civil transactions, for the subversion of which all is needed is as a simple change of mind of the parties".
Also, the Holy Synod of Bishops, during the two-day session on December – Monday and Tueasday – among other things, it was briefed by Archbishop Jerome on his trip to Germany, which was held in response to the invitation of German Foreign Minister Frank-Walter Steinmeier to contribute to the under formation Greek-German Youth Institute.
In addition, it was decided on the first day of its operations in January 2016, on 01.12.2016, to perform an afternoon session on the teaching of Religious Education in Secondary Education.
Indeed, to highlight the problem of violence in schools and the promotion of events and activities to address it, archbishop Hieronymus today at 1.00 pm will sign with the President of the Athens Chamber of Commerce and Industry (ACCI), Konstantinos Michalos, a cooperation protocol between the Church of Greece and the Institute of Arbitration and Alternative Dispute Resolution Methods (IDEMED).