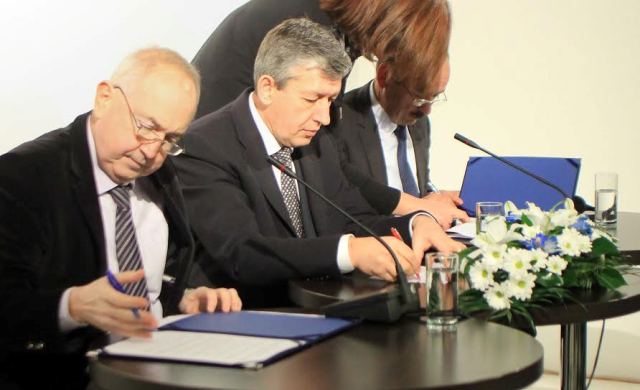 Skopje, December 16, 2014/ Independent Balkan News Agency
By Naser Pajaziti
A memorandum of cooperation was signed yesterday between Albania's State Archive and FYROM's Holocaust Museum. In this document, both sides engage to boost scientific cooperation and exchange of archive documents.
Participants in this ceremony expressed their gratitude for Albanians, who are known to be a nation who defended Jews during the Second World War.
Albanian Archives delivered 700 documents which relate to the escape of Jews from FYROM and other Balkan countries to Albania.
"I'm participating in this event not only as the head of an institution, but also as the son of a nation that manifests the greatest human virtues such as loyalty, generosity and courage, by protecting  Jews who were being persecuted and who became the object of an unprecedented genocide in Europe", said the head of Albania's Archives, Gjete Ndoji.
Pepo Levi from the Holocaust Trust of Jews in FYROM, expressed his gratitude for the Albanian people who helped in difficult times the Jewish people and that according to him, this is a sign of humanism. He conveyed messages of cohabitation for people in the Balkan.
"We don't want the lack of cross ethnic tolerance to be used for daily politics and for power struggle. We paid a high price for cohabitation for someone to play with it", Levi said.
Present in this ceremony was also the deputy PM of FYROM, Musa Xhaferri, who said that Albanians have a human soul and that they have always sacrificed for this mission.
"For our joint future, it's necessary to point out what brings us closer and not what distances us. Here, I can also mention the great help of Albanian families in order to save Jewish families in Macedonia, Kosovo and Albania. Many Albanians risked their life for this human dimension", Xhaferri declared.
An exhibition opened in the framework of this ceremony, called "The honor of a man", prepared by Albania's Directorate of Archives. This exhibition displayed the sufferings of the Hebrew people during Nazi rule. /ibna/