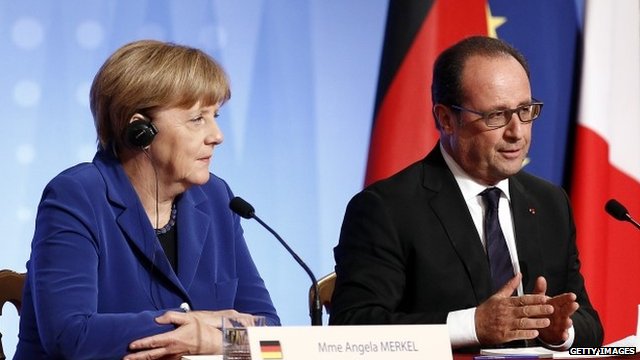 Strasbourg, October 7, 2015/ Independent Balkan News Agency
By Manolis Kostidis
Merkel: "Turkey plays a key role in the immigration issue"
Francois Hollande and Angela Merkel referred to the refugee crisis during their joint presence in the European Parliament.
Hollande stressed that the E.U. needs common guarding of its borders to protect the Schengen zone and warned of the danger of "total war breaking out in Syria and the wider Middle East if Europe does not act".
The French President argued that the E.U. must help Turkey on the refugee issue.
"I welcome the decision of European Commission President Juncker to help Greece and Italy but we must reach an agreement with Turkey. We must assist Turkey if we want Turkey to assist us" he stated characteristically.
Ms. Merkel was on the same wavelength as she stressed that in order to deal with the refugee issue "Turkey plays a key role".
"It a neighboring country. It's a country that has received 2 million refugees. It participated in the war on traffickers and hosting refugees. The dialogue for addressing the issue has begun now" she characteristically said.
The German Chancellor expressed the view that the agreement for asylum granted in the first country of arrival of refugees in the EU is outdated. "Let's be honest, the Dublin Regulation in its current form is outdated and I am in favor of a new process so that European countries share more the weight more fairly" she stressed.
The presence of the two leaders in Strasbourg was historic, since the last common speech of a French President and a Chancellor of Germany in the European Parliament took place 25 years ago after the fall of the Berlin Wall. Then, Germany was represented by Helmut Kohl and France by Francois Mitterrand.