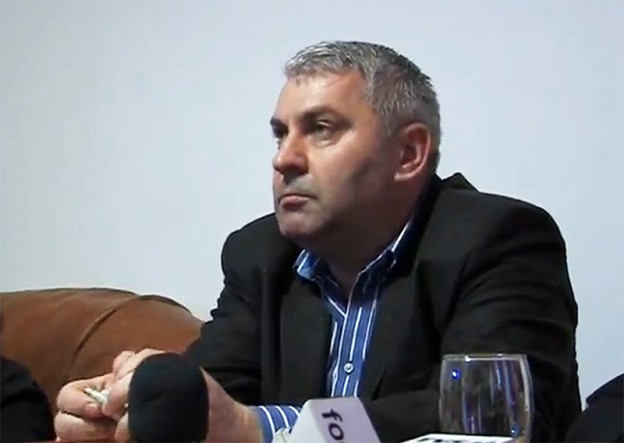 By Daniel Stroe – Bucharest
A Romanian lawmaker, member of the Parliament's lower house, has been arrested by anti-corruption prosecutors after asking for bribe from a local official, but only after the suspect fled the scene and hit the car of the investigators who came very close to being run over, according to the indictment.
Gheorghe Coman, a member of the Conservative Party, was caught red-handed when receiving 3.140 lei (about 700 Euros) from a local official whom he had asked to partially pay the bill for a political event he had previously organized in Buzau, a city in SE Romania where Coman's electoral precinct is.
According to prosecutors' charges, Coman had evoked the names of high ranking Romanian officials to intimidate the civil servant whom he asked the bribe from. All the phone conversations Coman had with the latter were tapped by the anti-corruption prosecutors.
The denouncer is said to be an employee of Buzau's Food Safety and Veterinary Agency and the lawmaker warned him that unless he pays the 3.140 lei he risks losing the job, alleging his party has full political control over the nominations at the agency. Coman also asked for specific products during the discussions with the denouncer.
In the indictment documentation, prosecutors point out that, once caught in the act, Coman got on his car and fled the scene, hitting the prosecutors' car and driving one inch passed the investigators who came short of being run over.
Coman's car was then chased on the streets of Buzau, but the prosecutors lost sight of him. His car was later found abandoned in a car park in the city. After taking shelter in his mistress' apartment, Coman was later arrested while driving to Ploiesti, a city about 80 km west of Buzau.
The prosecutors sent a formal request to the Romanian Parliament to lift Coman's immunity pending the criminal investigation against him. A report is going to be done by the judiciary committee of the lower house and then submitted to the vote of the plenum. "It is a shame such a citizen has become a member of the Parliament. I hope he will have the decency to resign. Justice has to be served, we are all equals before it" Valeriu Zgonea, speaker of the Chamber of Deputies reacted upon the news of Coman's movie like escape from the corruption. It is likely MPs vote for Coman's immunity to be lifted amid an already raging debate on an attempt they boost their impunity to corruption acts which has drawn the ire of the population and the West alike.