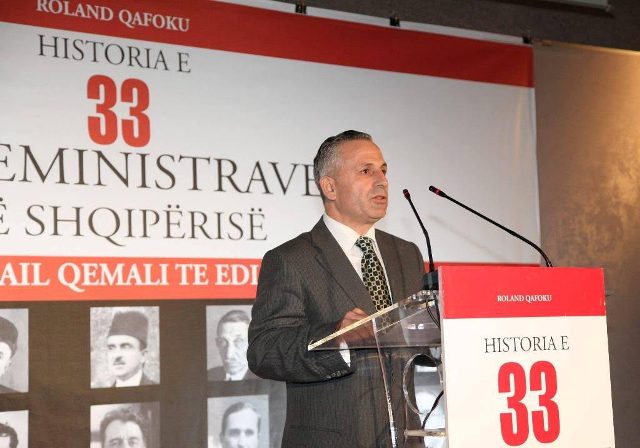 Tirana, 6 November 2015/ Independent Balkan News Agency
From Ismail Qemali to Edi Rama, Albania has had 33 prime ministers since 1912, when the Albanian state was created up until today.
Journalist and columnist, Roland Qafoku chose this subject for his new book "History of the 33 prime ministers of Albania, from Ismail Qemali to Edi Rama".
Professor Artan Fuga says that the book is a true encyclopedia and one of those books that will endure time, because "there we have history on the background, but more than history, we have politics there and no ideology".
"He has written with feelings, but  without emotions", Fuga said.
Talking to IBNA, Qafoku explains how the idea of the book was conceived: "After I searched for a book with the history of the prime ministers of Albania and didn't find it, I decided to write this book. Now that 11 years have gone by since the decision to write this book by making researches among archives, old and new books, testimonies, interviews and photos, now I can say that I know the 33 prime ministers of the Albanian state pretty well", Qafoku says.
Among them there are statesmen, politicians and typical bureaucrats that served to the Albanian state. But the author says that among the 33 prime ministers, there are some who were not that innocent.
The book is expected to spark interest for unknown sides of the personality of 33 Albanian prime ministers: from silent contributions to flirtations, to unrealized ambitions to ideas which may be evoked at every time.
A study which takes place for the first time in Albania
The book is a study which takes place of the first time in Albania. Who were the prime ministers of our state, how long did they remain in office, what are they remembered for, what had they studied, what orders did they give, what happened during the time that they served as prime ministers, what was said about them and what have they said about the time when they were prime ministers? All of these questions find an answer on this book.
Qafoku says that "all of this took 11 years and it brought a different perspective, a journey in the Albanian state". But how have and how are the prime ministers of the Albanian state? The author says: "More than any other nation, we, Albanians have used the expression "we don't have a state". I would like to say that this is a cliché. Sometimes, Albania has had a weak state, sometimes it has had a dictatorial state, sometimes autocratic, etc, but we can never say that we have never had a state". /ibna/