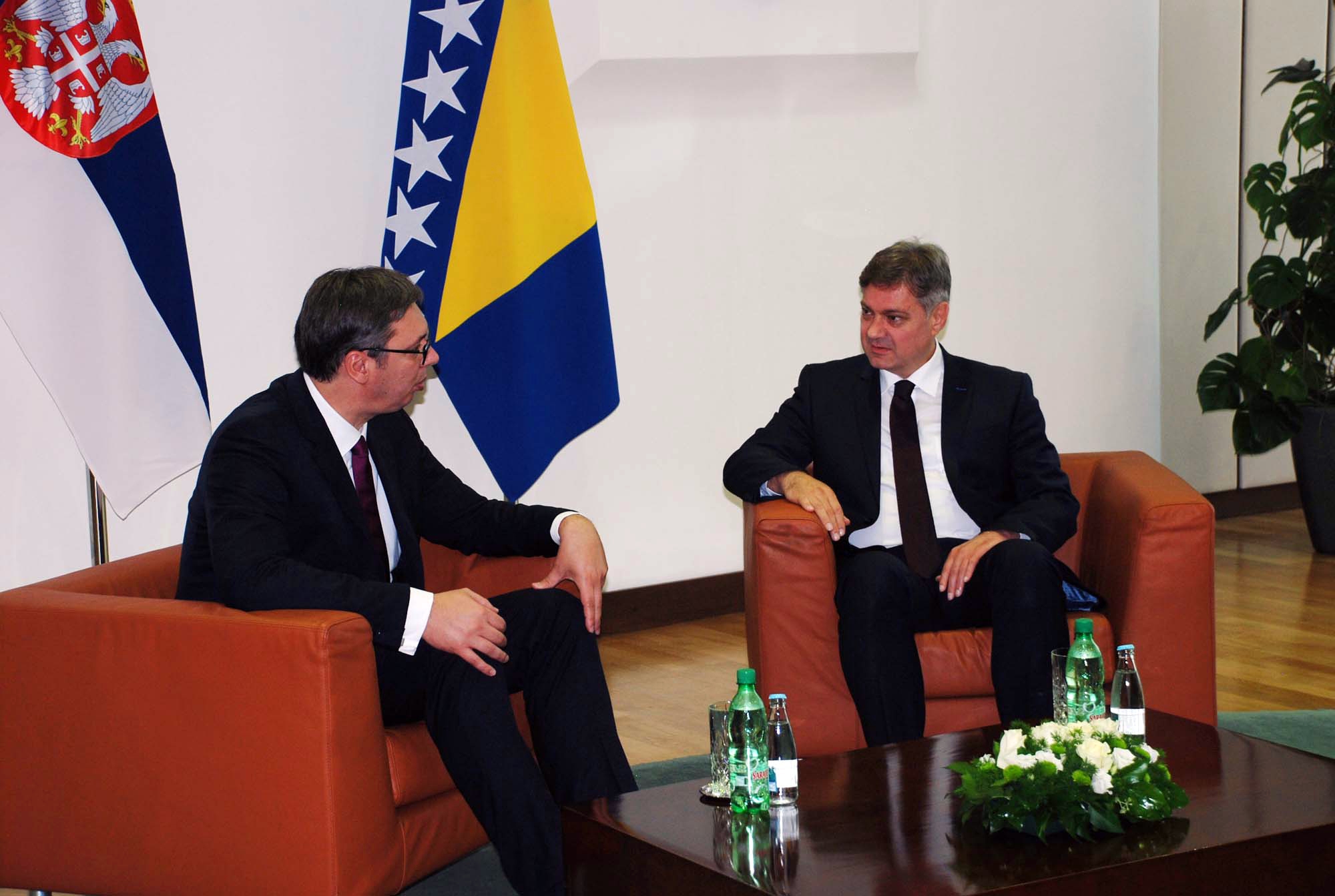 The second, and last, day of Serbian president, Aleksandar Vucic, visit to Sarajevo is marked by the common statement with BiH Council of Ministers Chairman, Denis Zvizdic, after the official meeting.
Vucic and Zvizdic confirmed that the goal of two states is to reach €2 billion trade exchange.
"BiH is Serbia's most important partner, as is the country with which Serbia has the biggest trade exchange volume in the region. We will work on that goal. We discussed a number of concrete measures, the Drina river region and ways to strengthen the infrastructure in that part of Serbia and BiH, as well as some entity issues. Denis (Zvizdic) mentioned that it is important to end the trade barriers and non-customs taxes. The non-customs taxes are underregulated and that causes problems to entrepreneurs in both countries. If we manage to solve that, it would be a concrete progress", said Vucic at the press conference.
The Serbian President said that he is convinced that the atmosphere between the two countries has changed and that, despite the desire of many who always talk about problems, these neighbor states managed to overcome it, and that now they have better understanding than before. He added that he is now looking to the future.
In order to confirm the change of attitudes, their commitment to look into the future and to leave the problems behind, Serbian Government and BiH Council of Ministers will hold a joint session in November this year to openly discuss all issues which burden good relations between the two states.
"BiH and Serbia are the first neighbors, share the same geographical area and the same intentions related to EU membership. This is what determines our relations and gives us a roadmap for the development and strengthening of our overall political, economic and social cooperation, Zvizdic told the media at the press conference in Sarajevo.
Zvizdic recalled that in the last 5-6 months many meetings were held about the integration of the economic space of BiH and Serbia, and emphasized that these discussions are not related with the dynamics of European integration but are linked with the beginning of a "planned use" of the total natural and human resources of the Western Balkan. Zvizdic stated that every Western Balkan country is individually a small market and that, like that, is not interesting to serious investors.
"But, if we offer joint projects and performances towards third markets, we can be a very attractive area for new investments, and therefore also for creating new jobs", Zvizdic said.
At the end of the visit, Vucic met the MPs of both houses in BiH Parliamentary Assembly to discuss open issues and to suggest the solutions for the problems which two states have in relations for decades. He said that it is important to understand that nobody have to forget the past, but that it is time to look in the future./IBNA