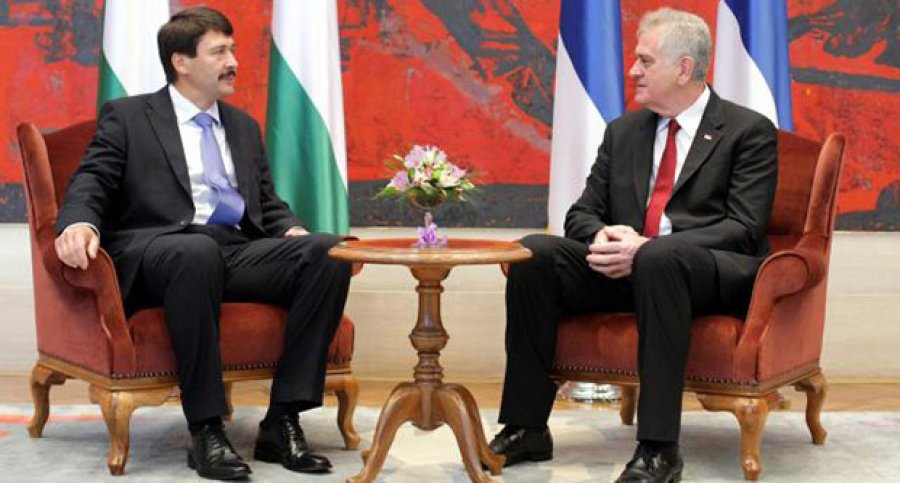 By Miloš Mitrović – Belgrade
Presidents of Serbia and Hungary Tomislav Nikolić and János Áder paid their respect to innocent Serb and Hungarians killed in Second World War. On Wednesday, as part of his official visit to Serbia, Hungarian president Áder apologized for the war crimes committed against Serb civilians by Hungarian armed forces. The visit of Mr. Áder, in opinion of both presidents, marked the "historical reconciliation" between Serbian and Hungarian people.
Nikolić recalled that Serbian and Hungarian people had found themselves on the opposite sides throughout the history, especially during the two World Wars.
"These international conflicts had been marked by the hostilities between our countries at the time, as well as by the devastation of cities and villages, killings of innocent civilians and destroying of cultural heritage. The tragic events that took place during the war years are a historical reminder which emphasizes the need to live in peace and mutual understanding", Serbian president said.
"As the president of Hungary, I ask for your forgiveness for the crimes which were committed in the name of Hungary by Hungarians against innocent Serbs during Second World War," Áder said at a special session of the Serbian parliament.
At the same time, Áder stressed that the Declaration condemning acts against the civilian Hungarian population in the Serbian Autonomous province of Vojvodina during 1944 and 1945 that the Serbian parliament adopted last week, represented an important historical step.
Firstly, Nikolić and Áder laid wreaths at the monument dedicated to innocent Hungarian victims in the village of Čurug. By the end of 1944 and in 1945 numerous Hungarians inhabitants of Čurug were killed or displaced by the Yugoslav communist army. This crime was retaliation for the killings of several thousands civilians by Hungarian fascists in Vojvodina in 1942.
The presidents also paid their respect to Serbs killed in Čurug in 1942. The relatives of the victims, as well as the representatives of the Roman Catholic Church and the Serbian Orthodox Church attended both commemorations.
Gábor Bódis, journalist from Budapest, said for IBNA that Hungarian media, both "official and liberal", had covered Mr. Áder`s visit to Serbia with great attention. "I didn't expected such an attention because Hungarian media are generally insensible for the Hungarians in the region. The official press paints the visit as just another success of Fidesz (Hungarian ruling party)", Bódis explained.
"I must admit that the visit is also the success of the Alliance of Vojvodina Hungarians (SVM, one of the ruling parties in Autonomous province of Vojvodina). The minor Hungarian parties in Vojvodina consider that apologize of Serbia was not honest, but rather motivated by its pro-European agenda. However, I think this was not truth. The meeting of Nikolić and Áder was really important and praiseworthy", Bódis concluded.