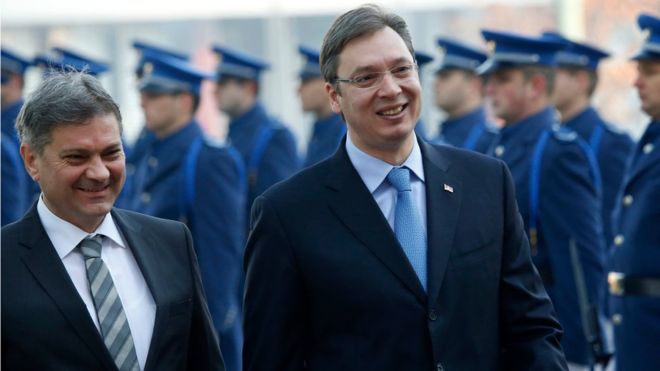 Sarajevo, November 4, 2015/Independent Balkan News Agency
By Mladen Dragojlovic
Representatives of Serbian Government and BiH Council of Ministers signed in Sarajevo four important documents to improve future cooperation in search for missing persons, the preservation of Mehmed-pasha Sokolovic Bridge in Visegrad, in telecommunication and in ecology.
After this, as it was named, "historic session" the chairman of BiH Council of Ministers, Denis Zvizdic, said that cooperation is more important than conflict. He added that some plans for wider cooperation are just now beginning, like the idea of the construction of the railway Belgrade – Sarajevo.
"BiH and Serbia are the most important foreign trade partners, and the sessions of this kind are clear guidelines for further development. This is the symbolism of this cooperation, because there are fears in Europe as to what will happen in the Western Balkans", Zvizdic said.
Analysts agree that this session is one of the most important for both countries not just in economic, but also in political terms. Vucic and Zvizdic sent clear message to European Union and other EU organizations that cooperation in region is possible and that there is a strong will for that cooperation, despite the problems and past conflicts. But, at same time, some analysts, like Cvijetin Milivojevic, argue that Vucic, with his visit to Sarajevo and the meetings with representatives of BiH joint institutions, shows that he is not supporting RS president Milorad Dodik, which is in international circles is marked as the person who is violating Dayton peace agreement. Out of the protocol, Vucic met with the leader of Serb Democratic Party, the biggest opposition party in RS, Mladen Bosic, who is also deputy of speaker in BiH Parliament House of representatives.
"Exiting the meeting, I am convinced that we have the same opinion on many issues. We both think that stability in the region is the national interest of the RS and Serbia. We should turn to development and to come out of stagnation. Also, we have to realize that it is necessary to be in the best possible relations with its neighbors, Bosic said after meeting with Vucic.
Dodik, who wasn't invited to be in Sarajevo during Serbian delegation visit, said that it is good for Serbia to build good relations in the region but that it chose the wrong partner for that in BiH.
"The Serbian Government made a bad choice in meeting with members of Council of Ministers because this institution is not a government in BiH. The council is assistant institution for BiH Presidency and nothing else. It would be better if the Serbian Government organized a meeting with RS and Federation BiH governments", Dodik emphasized.
Just the fact that Vucic had a meeting with Bosic and not with Dodik, for many analysts in BiH is a sign that the relations between Serb political parties can be deteriorating further, because representatives of the ruling and opposition coalitions are competing for support of the Serbian PM and the Serbian political leadership.