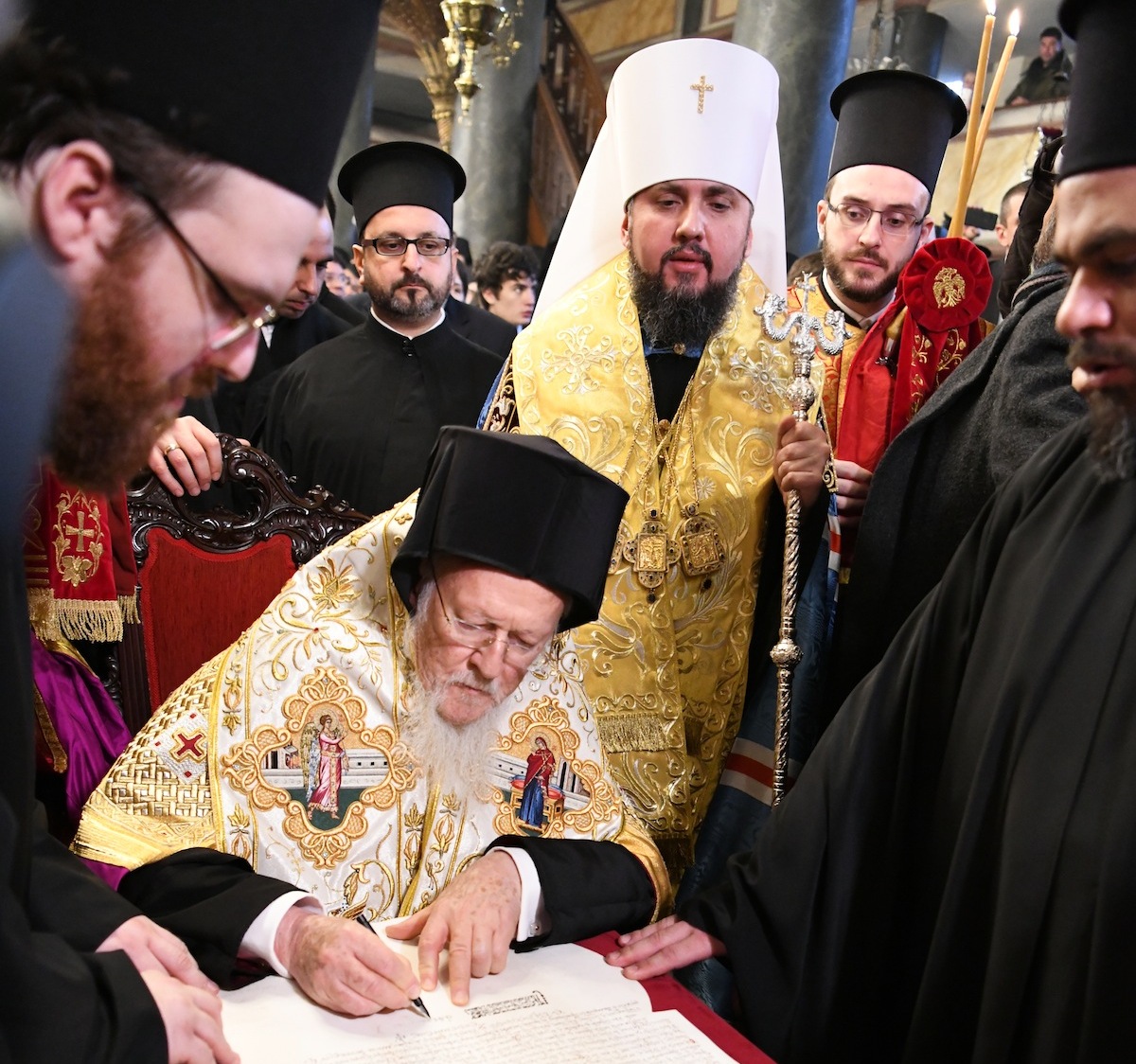 The Ukrainian Church has won its Autocephaly
The Volume for the Autocaphaly of the was signed by the Ecumenical Patriarch Bartholomew on Saturday January 5
In the presence of the Metropolitan of Kiev and all of Ukraine, Epiphanius, the President of Ukraine, Petro Poroshenko and his family, hierarchs and clergy, the Ecumenical Patriarch Bartholomew signed in a special Liturgy at the Patriarchal Church, in Phanar, the scroll of the Tomb of the official recognition proclamation of the Autocephaly of the Ukrainian Orthodox Church.
"The pious Ukrainian people have been waiting for this blessed day for seven centuries and, of course, the time has come to enjoy, as well as most Orthodox peoples, the unrighteous gift of emancipation and independence and self-rule, free of outside dependence and intervention", the Ecumenical Patriarch said in his speech immediately after reading the volume
"It was your right, your Excellency, to seek and to claim your Autocephaly".
Immediately afterward, Metropolitan of Kiev Epiphanius, the first Prelate of the new Autocephalus Ukrainian Church, spoke, expressing his gratitude to the Mother Church of Constantinople and personally to the Ecumenical Patriarch. He also noted that the daughter Church of Ukraine will never forget everything her Mother Church has offered from ancient times until today.
In  short speech, the President of the country Petro Poroshenko voiced his deepest emotion for this historic moment for the entire Ukrainian people.
The Metropolitan of Kiev and all Ukraine are accompanied by the Metropolitans of Vinnytsiak Bar Simeon, Halych Andreas, Lvivand Sokal Dimitrios, Lutskand Volyn Michael, Perejaslav-Khmelnitskiyy Vyshneve Alexander, Archbishop Chernihivk Nizhyn Efstratios, as well as priests of the Ukrainian Church.
With the current development, Kiev is moving away from Moscow and turning its attention to Constantinople (Istanbul), where the Ecumenical Patriarchate is located.
The Russian Church, and Vladimir Putin personally, has reacted to Bartholomew's decision. Moscow threatens with a schism in the Church, while the president of Russia blames the Ecumenical Patriarchate for bribery from Ukraine.
The Ecumenical Patriarch has responded to the accusations and has stressed that the rules of the Church are applied literally to those who ask for their Autocephaly, as in the case of the Ukrainian church.
Prior to his presence in the Ecumenical Patriarchate, Poroshenko had met with Recep Tayyip Erdogan in Turkey./IBNA