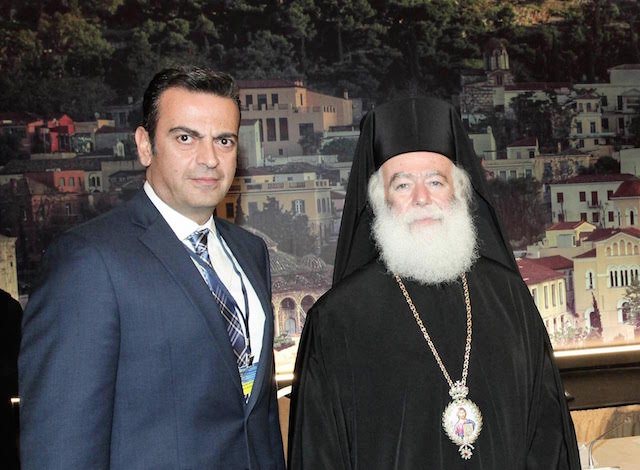 His Divine Beatitude Theodoros II Pope and Eastern Orthodox Patriarch of Alexandria and All Africa was also among the key participants of the 

2nd International Conference on religious & Cultural Pluralism that was held in Athens, on October 30-31. On the sidelines of the conference, he spoke to IBNA's Spiros Sideris about the meaning and importance of inter-religious dialogue and the general religious and social situation in Africa.
Your Beatitude, how important is dialogue between different dogmas for world peace?
First of all I'd like to thank you very much for my first interview with you. I grant this interview with a lot of love. I am an emigrant Greek who hails from Greece. I've lived in Odessa for many years and then became a missionary of love and justice for many years in African countries. Fourteen years ago, God summoned me to the throne of Apostle Mark in Alexandria. This is how I experienced and still live every day in multicultural societies with many dogmas and races present. So, when I received the invitation, it was very important for me to come to this meeting. As you heard yesterday, I was heartbroken to hear yesterday that the Greek church in Benghazi was bombed and destroyed. Our mind immediately travels to the pogrom and troubles faced by Christians in north Africa, not only in Egypt but in north Africa generally. We have our church in Benghazi which, who knows if it will ever be re-built. So, for me it is very important that with this dialogue we meet one another, unite our voices and also take action, not just think wishfully.
On the African side, there is a big immigration problem…
We do have a big immigration problem. You see, I am responsible also for the north of Africa and its sea which is turning into a cemetery because people hope that crossing this sea will bring them to heaven on the other side. What we are doing with the Metropolitans, as we explained yesterday, is to convince people that Europe is not the paradise they imagine and if they can they should stay in their countries. Africa is huge. It can feed the people. But they are convinced that crossing this sea will take them to heaven. So, we are trying with our priests and bishops and other dogmas to tell them that they should not leave their countries. They can work and create a better future for Africa, the continent of the future. It is difficult for them to understand because they live in absolute poverty, below which there is no lower level of poverty. Medicine, their lives, the conditions they live in are poor. The internet helps them see the rest of the world, they have access to the web in groups; therefore their dream is to leave Africa and go live a better life. What we do as a Patriarchate is schooling. We teach children to read and write. We want to give them a better quality of life. We have 3,000 schools. They are poor but fortunately they exist. So, convincing them is very difficult, but of course many see the difficulties and return home. But, the dream of every African is one day to cross the Mediterranean and arrive in Europe.
Have the good relations between the Greek and Egyptian governments helped? 
 Yes, very much. A week and a half ago I was honored and delighted to meet with President Sisi. He received me as a church leader, like a leader of a nation, with much love. Of course they've known me for many years, I've been at the Patriarchate since 1985. They honor, respect and love me. We talked with the President for an hour and a half. What he stressed is his great hope for the tripartite summit and the cooperation between Cyprus, Greece and Egypt. When I was talking with Prime Minister Tsipras yesterday, at the dinner, this is what I pointed out to him. He told me that, perhaps the leader of Italy, will be added to the cooperation. So, I believe the partnership will be very helpful. Of course, emotionally, even when the Egyptians hear the word "Greece", they are immediately reminded of the approximately 300,000 Greek expatriates that lived here and are a part of the history and culture of Egypt. Alexandria, of Alexander the Great, too of course. My meeting with the President was very helpful. The other day, when we presented the book on the Alexandria Patriarchate, there were visitors from all universities along with the governor of Alexandria and leaders of the army, which gives our Patriarchate tremendous stature on the door of Africa, as I like to call Egypt. It is a very powerful country and it can play a great role in the Balkans and the Mediterranean.
As for the Greeks that live there, the expatriates…
The expatriates are very few now. We have our schools, our teachers, our monasteries, St. George, and our churches. But tears come to my eyes when I take the community's bus and pick up all the Greeks and the older members of our community and visit every church from village to village to ring the bells, light the candles and make the Greek language and prayer heard, have a bite to eat and praise the Lord. […] With the expatriate Greeks, in Cairo, Alexandria, Port Said and elsewhere, I become a journeyman for God allover Africa, but my heart beats in Alexandria…/IBNA