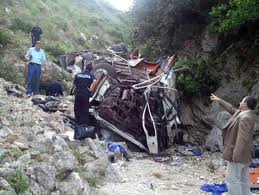 As previously stated, the survivors of Himara tragedy on 21 May 2012 have started protests requesting compensation from insurance company SIGMA.
Gathered in front of the "Aleksandër Xhuvani" university building, supported by many other co – students, family members and friends, they requested compensation. "The compensation granted was ridiculous; we are deeply saddened. We are sad to refuse the amount allocated and expect from SIGMA to provide the real compensation in the amount of 150ml lek for the accident," they said.
The students who survived the Himara tragedic accident, where 13 people lost their lives, have warned of escalating protests and of a potential hunger strike in the case of the compensation from the insurance company not granted.
They appealed on the Prime Minister's Office, Minister of Justice and the Ombudsman to intervene to ensure they are compensated.
Himara accident happened on 21 May 2012 in Qafa e Vishës. Eleven students, the fiancee of one of them and the bus driver lost their lives and over 20 others were injured. /ibna/