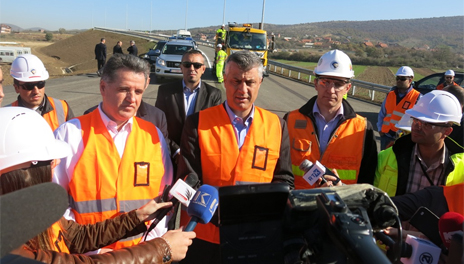 Pristina, March 28, 2014/Independent Balkan News Agency
By Elton Tota
Prime Minister of Kosovo, Hashim Thaci declared a few days ago that the works for the construction of the highway linking Pristina to Skopje will start within a week or 10 days. According to him, all the paperwork relating to the contract will be signed by the Ministry of Infrastructure and other competent authorities. Thaci said that Kosovo is gradually turning into a junction for the region with what he considered to be the most modern infrastructure in the Balkan. While the government insists that the highway which will cost 600 million Euros will be useful for Kosovo producers, critics say that the cost is higher than benefits.
Critics say that the new highway will have a small impact to reduce the high trade deficit that Kosovo has with FYR Macedonia, which in fact, it will benefit FYROM more.
FYR Macedonia is the second biggest exporter for Kosovo, exporting around 245 million Euros worth of goods in 2013. In the same year, Kosovo has only exported 34 million Euros worth of goods to FYR Macedonia.
Asked if the highway to Skopje could damage private sector and if the private sector should have been given more time to strengthen, Lumir Abdixhiku from RIINVEST says that "it would be best if things were done at the same time, thus, the increase of domestic capacities should take place alongside the increase in the quality of roads".
"If we only care for roads and forget the private sector, then the final product in the commercial aspect will not be in our favor", says he.
Since the start of the construction of "Ibrahim Rugova" highway which links Kosovo to Albania in 2009, exports from Albania have benefited more than those from Kosovo. Since 2009, Albania's exports to Kosovo have increased by 165%, while Kosovo's exports have increased by 100%.
But, deputy minister Nikaj insists that the experience with FYR Macedonia will be different.
He says that products imported from FYR Macedonia can be replaced by domestic producers, something which is intensifying.
But, according to Lumir Abdixhiku, the highway is a luxury and not a need.
"It's the same as if to spend a holiday in Paris, at a time when you haven't yet paid your rent, school and nothing is going like it should do", says he.
Abdixhiku says that the highway which is expected to be built has concentrated funds on infrastructure, neglecting other important domains.
"Focusing this way has put aside the most important needs that Kosovo has today, such as private sector, judicial system, schooling and health", he added.
"By focusing the entire financial capital in a single project, we have given up on a number of priority needs. As a result, in the recent years, economic growth and the creation of new jobs have been symbolic", explains he.
The same opinion is also shared by Agron Demi from GAP institute. According to him, "the highway linking Kosovo to Albania has shown that the construction of better roads doesn't necessarily bring higher economic growth".
This road will be built by "Bechtel&Enka" which has won the tender amounting to 600 million Euros. The construction of the highway will last 42 months from the signature of the contract. /ibna/