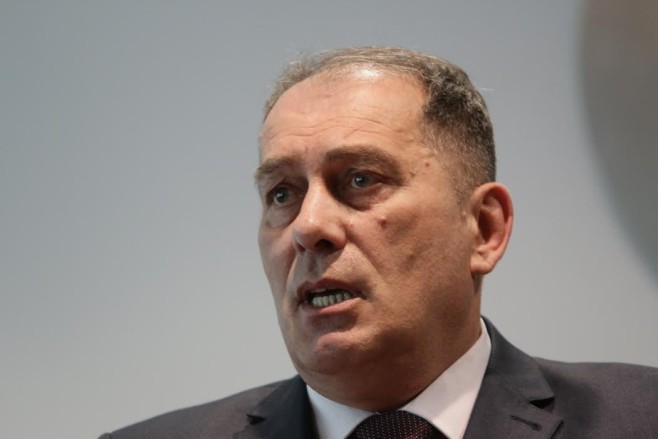 Banja Luka, October 13, 2015/Independent Balkan News Agency
By Mladen Dragojlovic
The journalist community in BiH is disgusted by the two verbal attack on journalists, while there were even reactions from international organizations in BiH.
The worst fact in this case is that the attacks were committed by BiH Minister of security, Dragan Mektic and Deputy of Auditor General BiH, Dzevad Nekic. Mektic held a press conference in Banja Luka on Monday and Republic of Srpska TV (RTRS) asked him about the several affairs in which his name was mentioned. The question caused an avalanche of accusations by Mekic who said that RTRS is the "ruling party SNSD military wing". He added that this public broadcasting service is "full of botox", suggested to paint their studio in "brothel colors" and install red lights on the entrance to show what in fact that building really is.
Mektic stated that he never was called to be a guest in the Central News programme of RTRS, but the RTRS journalists who were at the press conference said that it is not true. This caused more insult on this media, journalists and even members of their families. The situation was on the verge of a bigger incident when Minister of security decided to leave the room.
The second incident occurred in East Sarajevo aon Tuesday, when Dzevad Nekic called journalist of "Glas Srpske" newspaper, Zeljka Domazet, on the phone and started insulting and threatening them. He was angry because Domazet published the text about his attempts to employ his son in the Office of the Auditor General of BiH.
Journalist associations in RS reacted on both incidents saying that it is more than inappropriate that such high officials who are supposed to defend human rights, behave so rude.
"The Journalists Association in Banja Luka expressed its concern about the frequent verbal attacks on journalists in recent days. We demand from political parties to publicly distance themselves from statements of their officials who insult journalists. If these and similar attacks are repeated, the Banja Luka Journalists Association will call on colleagues to boycott the press conferences of these officials and not publish their statements or press releases", stressed this journalist association.
Commenting on discriminatory remarks made about journalists of RTRS, spokesperson of EU Delegation and Office of EU Special Representative in BiH, Andy McGuffie, said in the press release that safety of journalists is a precondition for free speech and free media.
"Any threat to journalists' working environment and ability to operate independently must be seriously addressed. Singling out female journalists in misogynist remarks is degrading and an unacceptable threat to female journalists' safety. In addition to causing personal insult and trauma, it is a challenge to media freedom", McGuffie emphasised.
He stated that freedom of expression and freedom of media are major priorities for the European Union and, as part of the Copenhagen political criteria, a key aspect of the EU integration process of the Western Balkans countries, including BiH.
"We keep a close eye on these issues in assessing BiH's readiness to move closer to the EU. We expect full support from people in positions of responsibility in achieving these policy priorities", concluded the EUSR spokesperson.