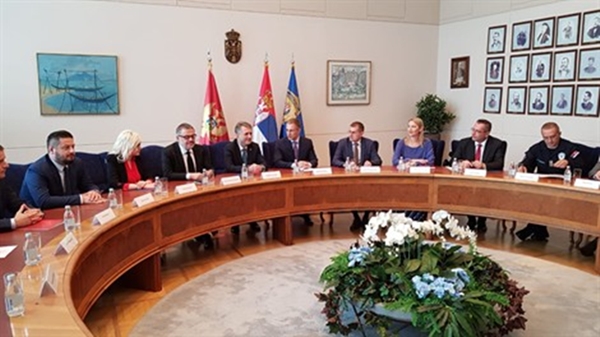 Minister of the Interior Mevludin Nuhodžić and Deputy Prime Minister and Minister of the Interior of the Republic of Serbia Nebojša Stefanović noted in Belgrade the high-quality cooperation between the Montenegrin and Serbian police in the fight against organized crime, adding that criminals will not be safe neither in Montenegro nor Serbia.
Minister Nuhodžić praised the cooperation of criminal police, as well as joint operational teams, which resulted in locating internationally wanted persons, the intersection of the narcotics smuggling channels and the solving of serious crimes.
"We are witnessing criminal groups operating not knowing boundaries, not only in our region, but also around the world. That is why our best answer is an open, efficient and honest cooperation that clearly states that criminals are not and will not be safe neither in Serbia nor Montenegro and that our countries will strongly oppose and fight against the organized crime," Minister Nuhodžić said.
The Minister reminded that an agreement was signed last year to facilitate the movement and crossing of the border in the border municipalities of Montenegro and Serbia, in order to solve their everyday needs.
"I am pleased that the formation of a commission dealing with this issue is in the final stage and that the implementation of this agreement will very soon be a reality," Nuhodžić said.
He added that the participants of the meeting agreed to consider the possibility of building a joint border crossing in Boljari, a highway that will be a significant road between the two countries.
Minister Nuhodžić also referred to cooperation through joint patrols during the summer tourist season and pointed out that this type of cooperation contributes to increasing the safety of tourists from Serbia who are coming and staying in Montenegro.
As it was announced in the press release of the Montenegrin government, Serbian Deputy Prime Minister and Minister of the Interior Nebojša Stefanović said that cooperation in the field of fighting organized crime is effective and that members of the criminal police quickly exchange information that is important for detecting criminal offenses.
"We have exceptional cooperation that will continue in the future because we want to send a clear message to the criminals that the police will come out as winners in the fight against organized crime," Stefanović stressed.
Speaking about the cooperation between the border police of the two countries, the two ministers discussed expanding the capacity of border crossings in order to facilitate the transit of citizens, not only during the summer season, but throughout the year.
"Our aim is also to stop the smuggling of narcotics, goods, as well as the transfer of persons who belong to a criminal milieu," said Stefanović, who thanked Minister Nuhodžić and members of the Montenegrin police for the exceptional cooperation./ibna