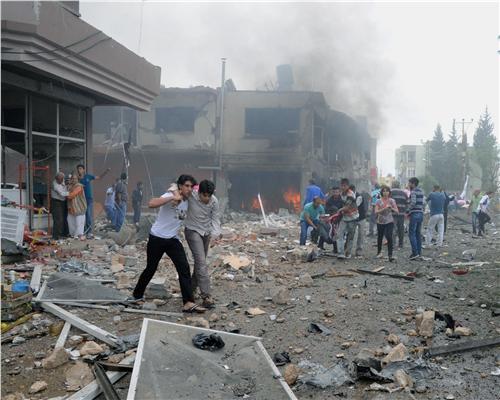 By Manolis Kostidis
The terrorist attacks in Reyhanli of Antioch in Turkey, where 46 people were killed and dozens of others were injured, raise questions about who are behind these attacks.
The Interior Minister of Turkey Muammer Guler, claimed that the attack was carried out by a group known to the Turkish authorities for its direct relations with "Al Mouchamparat", the Syrian intelligence services.
The Turkish authorities stress that nine suspects, who have a direct relationship with the organization, have already been arrested and interrogated.
The Turks suspect that Syria with these attacks sends a message to Ankara to stop supporting the rebels and halt their efforts to overthrow Assad.
Did Turkey know about the attacks?
However, despite Ankara's accusations, there is some evidence that the attack may have been carried out by extreme Islamist organizations which are fighting with the opposition in Syria.
It is impressive that the pro-government Sabah newspaper on May 10, just one day before the terrorist attacks, wrote that "the Turkish security authorities have information that on April 23 in Raka, three vehicles of the groups which aim to carry out attacks were loaded with explosives. The perpetrators may enter Turkey from three different gateways. Have the secret services informed the army and police to take appropriate measures?"
However, the city of Raka is completely controlled by the rebels of Syria and the army of Assad's regime cannot invade in it for several months. The Turkish government so far is concealing that it had information for a possible attack and how the vehicles were loaded from the region dominated by insurgents.
2000 members of al-Qaeda in Turkey!
At the same time, the newspaper Cumhuriyet, the same day of the publication of Sabah, with its front page had revealed the existence of 2,000 members of Al-Qaeda in Turkey!
"It is about Turkish citizens who were trained in camps in Afghanistan, Pakistan, Bosnia and Chechnya" wrote the newspaper; a story that has never been denied by Erdogan's government.