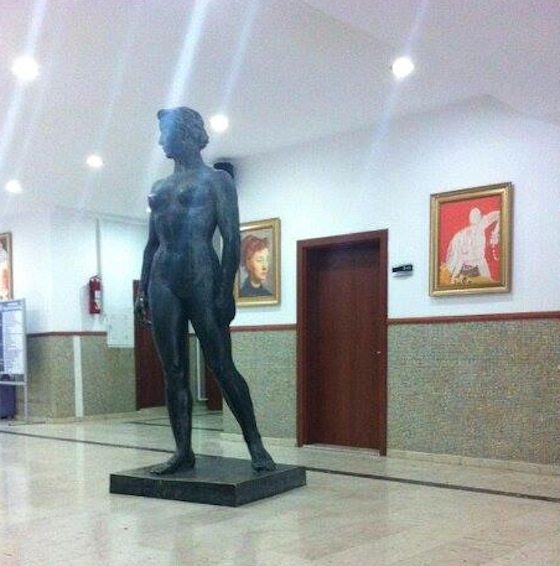 By Manolis Kostidis – Istanbul
They were in the university building for 40 years.
Some people are talking about possible extreme Islamic behaviors.
Shock in Turkey from the conservative act of the University of Gazi's management in Ankara. Two naked statues, one of a man and another of a woman that were decorating the University's  School of Fine Arts for the last 30 years were removed after a decision by the management!
They were works of the sculptor Ali Hadi Bara, which according to claims were sent to a museum or a warehouse.
According to the newspaper Sol the statues were moved without notice. University students as well as lecturers claim that Erdogan's Islamic-friendly government is disturbed by modern figures such as this, so perhaps the University's management made this decision in accordance with the conservative position of Turkey's governing political party. The lecturers report in the newspaper that the statues were "ostracized". The Dean of the University Emin Kuru stated that "they were statues that appealed to the communists. It constitutes illiterate behavior to exhibit things out of place. This is a University; these statues should either be given to the gymnastics academy or be put in a warehouse".
In any case, the department in which the two statues were exhibited was Gazi's department of Fine Arts.
In 2010, Recep Tayyip Erdogan had ordered the demolition of a monument that had been raised on the borders with Armenia as an act of friendship between the two countries. During his visit in January of 2011, to the eastern city of Kars, Erdogan had characterized the monument as a "monstrosity" and had ordered the Mayor to demolish it.
The concrete statue that reached a height of 30 meters had not been completed yet. It depicted two figures in a body that was divided in two. It was commissioned in 2008 in order to underline the friendship between Turkey and Armenia.
A few months after Erdogan's order, the monument was demolished by the municipality's services.