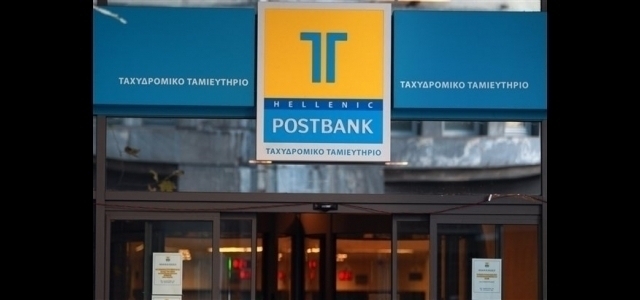 By Lefteris Yallouros – Athens
The Hellenic Financial Stability Fund (HFSF) has picked Eurobank to buy the Hellenic Postbank, after a board meeting held over the weekend.
An HFSF announcement says it will "work closely with Eurobank in order to sign a binding agreement on Monday July 15th 2013". Eurobank's offer reportedly solely involved shares, not cash.
Alpha Bank, the National Bank of Greece and Piraeus Bank's Geniki unit had also bid to acquire the Postbank.
On Friday, the HFSF also picked Eurobank to acquire small lender Proton Bank, which is also fully owned by the fund.
Eurobank itself is owned by the Hellenic Financial Stability Fund. The troika was reportedly keen on the Postbank being sold to Eurobank in order to make the latter more attractive to investors when it is eventually privatized again.
It is hoped that with the added fire-power of the Postbank and Proton Bank, Eurobank will be sold – reportedly to foreign investors – within 2013. The Hellenic Postbank has assets of 13.7 billion euros, deposits of 10.7 billion and a network of about 200 branches while Proton has deposits of 1 billion euros and 1.3 billion in assets.
After pumping EUR 5.84 billion last month in Eurobank and around EUR 4.5 billion in the Hellenic Postbank having wound down and re-launched the bank, the HFSF will seek to claim some of its funds back through the re-privatization of Eurobank.
Goldman Sachs was the fund's adviser on the Hellenic Postbank sale.
Completing the sale of the Postbank and Proton Bank which is soon to be followed by the re-privatization of Eurobank is considered a success on the part of the Greek government as the country's lenders had requested the revamp of the banking system as part of the bailout program.
With the recapitalization of Greece's systemic banks now completed, the sale of Eurobank with the Postbank and Proton under its wing will be the last piece in the puzzle.
Greece's banking sector must now turn its attention to supporting the real economy. It won't be an easy task as banks are still loaded with many bad loans and lenders are hit hard by deep recession.