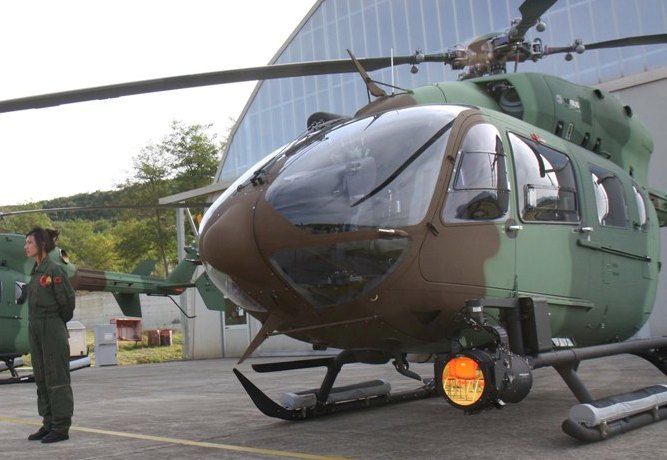 Strong suspicions that before it took off, the helicopter made a mysterious stop
Tirana, 7 April 2016/Independent Balkan News Agency
By Edison Kurani
The helicopter that crashed yesterday in the lake of Shkoder which led to the death of two pilots and the injury of another soldier, was scheduled to take Prime Minister Edi Rama to Kosovo today.
The Eurocopter EC 145 with board number 637 of the Armed Forces of Albania, had been scheduled to take  the Albanian PM to Pristina today, as he was supposed to participate in the inauguration of the new president, Hashim Thaci.
While there are not yet any clear leads which could explain this tragedy, the fact that the accident occurred a few hours before Rama's journey, is surprising.
Investigations have been focused on a possible technical failure or human error, but no official details have been given.
The helicopter made a suspicious stop?
Albanian media is casting strong suspicions for a mysterious stop of the helicopter.
Photos of the army's helicopter which had landed in Shkoder several hours before the fatal flight have been made public.
Officially, the ministry of Defence said that "according to the flight schedule, helicopter EC 145, with board number 637 with 3 people on board, captain Floran Deliaj, lieutenant Donald Hoxha and professional soldier Gerald Baramuca, departed from Farka on 06.04 at 12:10 as part of a drill according to a schedule approved beforehand.
At 13:45 happened the last contact that the helicopter had with the Control and Report Center in Rinas. After communication was lost, a search and rescue helicopter was dispatched toward the area was contact was lost".
But the published video suggests that the helicopter that crashed yesterday in the Lake of Shkoder prior to the accident has landed in the customs of Han i Hotit and it is thought to have exchanged something with a lorry parked there. The video was filmed by two mobile phones, one from the road while the other from within the customs. Everything was filmed around 10 am on Wednesday, 6 April 2016 or 2-3 hours prior to the fatal accident.
The government reacts
The government said that the published video has caused confusion. A few moments ago it issued a press release, saying that the helicopter appearing on the video has no distinctive symbols of the Albanian army.
There's no confirmation that a technical inspection was done
Suspicions have been cast in the recent hours on the technical state of the helicopter. Asked if the helicopter underwent technical control, the chief of staff of the Armed Forces, general major Jeronim Bazo, didn't confirm this: "It is still early and we are expecting to collect all information". As far as the checks are concerned, Bazo said that "everything has been done according to the rules of flying and the necessary preparations which are made in these cases".
Commenting on these suspicions, journalist and columnist, Dritan Kaba, who currently is an official in the Albanian parliament, raises several questions before the ministry of Defence comes out with an official stance on the event:
"There are three questions which must be addressed: Has the helicopter passed the mechanical test prior to flying and has this been logged or is the press conference being delayed until the necessary papers are filled in? Was this helicopter insured?  Thirdly, when it flew several days ago above Tirana for the parade organized on the occasion of the 7th anniversary of Albania's NATO membership, was there a breach in the regulation for military flying vehicles above inhabited areas?"
These three questions have not yet received clear official answers. Mr. Kaba says that it was absurd that political officials visited the scene, while investigators remained in Tirana. Here, Kaba casts suspicions about an incomplete investigation: The minister of Health went to Shkoder along with the minister of Defence, while the army's chief of staff issues a statement in Tirana. Who was really supposed to be there? When will the Prosecution launch its investigations or is it still unaware of what happened?"
At this point, Mr. Kava says that there are two bizarre elements in all of this: "The first ones to arrive at the scene are politicians, while the army's chief of staff stays in Tirana. Meanwhile, the Prosecution will go to the location once the evidence is tampered with". /ibna/