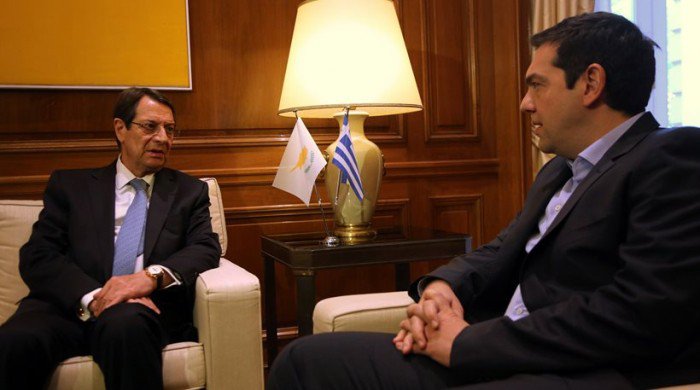 Cyprus President Nikos Anastasiades and Turkish – Cypriot leader Mustafa Akinci Turkish will have their first meeting for 2017 on Wednesday morning.
Another meeting between the two leaders has been scheduled to take place on 7 January; before the Geneva talks on 9, 10 and 11 January and the Conference on Cyprus on the 12th of the month.
Contacts between negotiators Andreas Mavroyiannis and Ozdil Nami who met Tuesday are ongoing, and today Greek Foreign Nikos Kotzias minister will meet with the special adviser of Secretary General UN Cyprus, Espen Barth Εide and tomorrow he will meet with the Foreign Minister for European issues of Great Britain Sir Alan Duncan before departing for New York.
On Thursday the Nicos Anastasiades will inform the National Council on developments in view of the upcoming Geneva Conference, while today late afternoon he will brief the Holy Synod in the Archdiocese of Cyprus on the Cyprus Issue.
On Monday, January 9, the greek Prime Minister will inform political leaders about developments on Cyprus, while on Monday Alexis Tsipras will meet with Greek President Prokopis Pavlopoulos. The Cyprus Issue will be high on the meeting's agenda with a focus on information and positions of political leaders and the positions of the Greek and Greek Cypriot side in the Geneva Conference.
Turkish Foreign Minister Mevlut Cavusoglu will be in New York on 5 January,  according to a statement by the Turkish Foreign Ministry, where he will meet with UN Secretary General Antonio Guterres, a day before the meeting between Guterres and Kotzias on January 6.
According to IBNA information, so far a meeting between Kotzias and Cavusoglu has not been arranged, but an informal meeting on the margins of their contacts on the Cyprus Issue at UN HQ has not been ruled out./IBNA