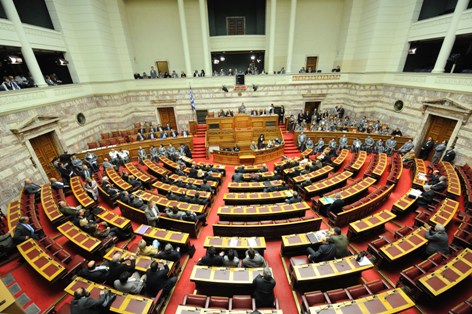 By Lefteris Yallouros – Athens
A three-day debate leading up to a vote confidence towards the Greek government begun parliament Wednesday. The debate will continue on Thursday and will be completed on Friday at midnight with a roll-call vote.
Prime Minister Antonis Samaras requested the vote of confidence in what is considered a move to stall SYRIZA's call for an early general election. Asking MPs for their vote of confidence, wins the coalition government political time while allowing it to show that it has parliamentary approval to continue with reforms demanded by Greece's lenders.
The move was preemptive because the government expected the opposition to file a no-confidence motion, according to reports in the Greek press.
The heated debate opened in parliament on Wednesday with New Democracy rapporteur Makis Voridis, followed by the rapporteurs of the other parliamentary groups.
Prime Minister Antonis Samaras was not present he visited Milan, Italy to attend the EU Summit on employment. His absence drew much criticism from main opposition SYRIZA who saw it as an excuse to avoid showing up. Even New Democracy MP Dora Bakoyiannis said in an interview on Wednesday that it was wrong for the premier not to be in the House as the debate got under way, blaming his advisors for the mistake.
Health Minister Makis Voridis opened the debate on behalf of New Democracy by blaming SYRIZA for his negative stance during the government's attempt to tackle the ongoing economic crisis. "The opposition did not engage in constructive criticism over the past two years," Voridis said while also accusing the main opposition party of engaging in "hate speech," which stoked political tension.
In reply, Yiannis Dragassakis, the main opposition's rapporteur, said "it just takes a powerful businessman, a major publisher, sometimes even a medium-sized publisher, a shipowner, a friend of the prime minister to call up and have a law abolished or a fine scrapped."
SYRIZA MP Panagiotis Lafazanis went one step further and directly accused the Prime Minister of "systematically avoiding (discussions in) parliament" adding that it was a misconduct to seek a vote of confidence and not show up to explain this action.
Meanwhile, earlier on Wednesday, judicial authorities turned away a request by Golden Dawn MPs currently remanded in Korydallos prison that they be allowed to take part in the confidence vote.
In a statement released through his lawyer, Golden Dawn leader Nikos Michaloliakos condemned the decision as "unprecedented" and "a blatant violation of the constitution" revealing that he is to lodge appeals with the Greek judicial system and the European Court of Human Rights against the judgment.