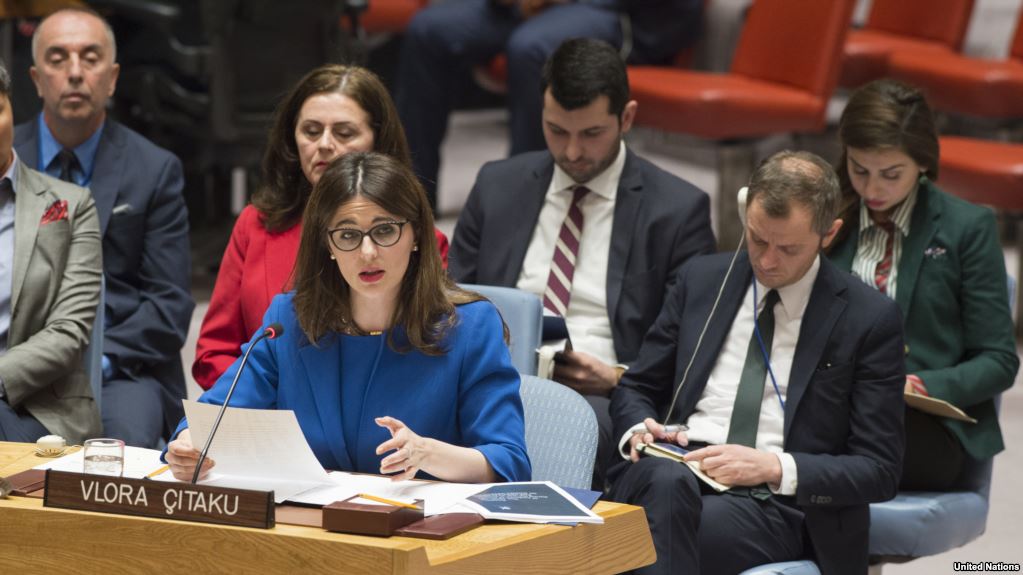 The report of the UN Secretary General on UNMIK's work for the period 16 January-15 May this year was discussed at the Security Council in New York. The Serbian top diplomat Ivica Dacic and Kosovo's ambassador to the US, Vlora Çitaku have once again been involved in heated debates.
Kosovo's ambassador to Washington, Vlora Çitaku has once again demanded for UNMIK's mandate to Kosovo to end, stressing that there's no reason for this mission to be in the country as Kosovo is independent and able to take care of its own domestic affairs.
The ambassador recalled the fact that 20 years ago to this day, the UN Security Council adopted Resolution 1244 and placed Kosovo under UN administration. Praising the role of this mission in Kosovo, she also mentioned the cruelties of Serb forces during the last war in Kosovo.
"Kosovo's independence is not a product of a secessionist movement. Its independence is product of decolonization", said the ambassador, stressing that the situation in Kosovo compared to 20 years ago is very different "and we see no reason for UNMIK to continue its mission in Kosovo".
The Serbian minister said that his country is looking to find compromise with regards to the solution of the issue of Kosovo, while accusing Pristina of not willing to implement the agreements that were reached in Brussels in 2013.
The Serbian top diplomat also accused Kosovo of blocking talks by imposing tariffs, while warning the UN Security Council that "Pristina is getting ready to attack the north of Kosovo". /ibna/