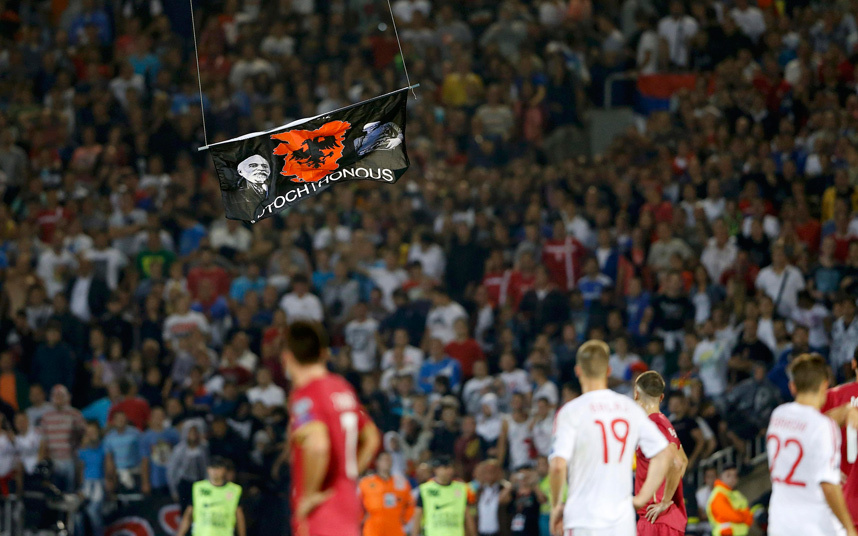 Belgrade, October 8, 2015/ Independent Balkan News Agency
By Milos Mitrovic
Serbian Prime Minister Aleksandar Vucic has decided not to attend long awaited football match Albania-Serbia in Elbasan today. Vucic explained that "sports manifestation has been politicized" and demanded from Albanian government to secure all Serbian citizens in Albania. The first qualification game for Euro 2016 between two teams in Belgrade last October was marred by incidents; subsequent political turmoil between Belgrade and Tirana was eased by European Union's intervention.
"Due to unusual politicization of a sports event and after a number of telephone conversations with Prime Minister (of Albania) Edi Rama I decided not to travel to Elbasan, in order sportsmen to be the main actors of the football match", Vucic stated in his "letter to Serbian public" ahead to tonight's game.
Albania and Serbia have worked hard on mutual understanding and establishing regular contacts in previous 12 months, Vucic added. These contacts would contribute to better political and economic cooperation between two countries, following the decades of silence and frozen enmity, he underlined.
Two neighbors have started to tackle important projects including Nis-Durres highway and railway Belgrade-Podgorica-Skhoder-Tirana, Serbian PM stated. "I know very good that it's easier and more popular to raise the tensions", Vucic added concluding that "it's always easier to opt for hatred instead a reasonable considering of the future". "Nonetheless, I believe that Albanian Prime Minister Edi Rama as well as Serbian leadership have sent an important message by exchanging the best students (of the two countries)", he said.
However, after incident in Tirana last night, when rocks were thrown on the bus with Serbian footballers, Serbian media aggressively suggest bad scenario ahead of the game, including possible delay of the match. Tabloid "Informer", which sympathizes Serbian Progressive Party headed by Vucic, claims in its main story today that an Albanian citizen "intended to shoot Serbian footballers".
It refers to Ismail Morina, the actor of the incident at the Belgrade match, who was arrested by Albanian police on Wednesday. Morina was detained because of illegal arms possession. Furthermore, the main headline in Kurir, another influential tabloid, suggests that Morina "wanted to assassinate Vucic".
Blic newspapers predicts "blood" in Tirana, while Radio-Television of Serbia states that Serbian "eagles" defend the honor of the country.
According to accounts, Albanian Ambassador in Serbia Ilir Bocka refused to come to Serbian Foreign Ministry last night. Bocka was supposed to receive a note of protest due to attack on bus with Serbian footballers in Tirana. Serbian media comment that Bocka's decision was "provocation".