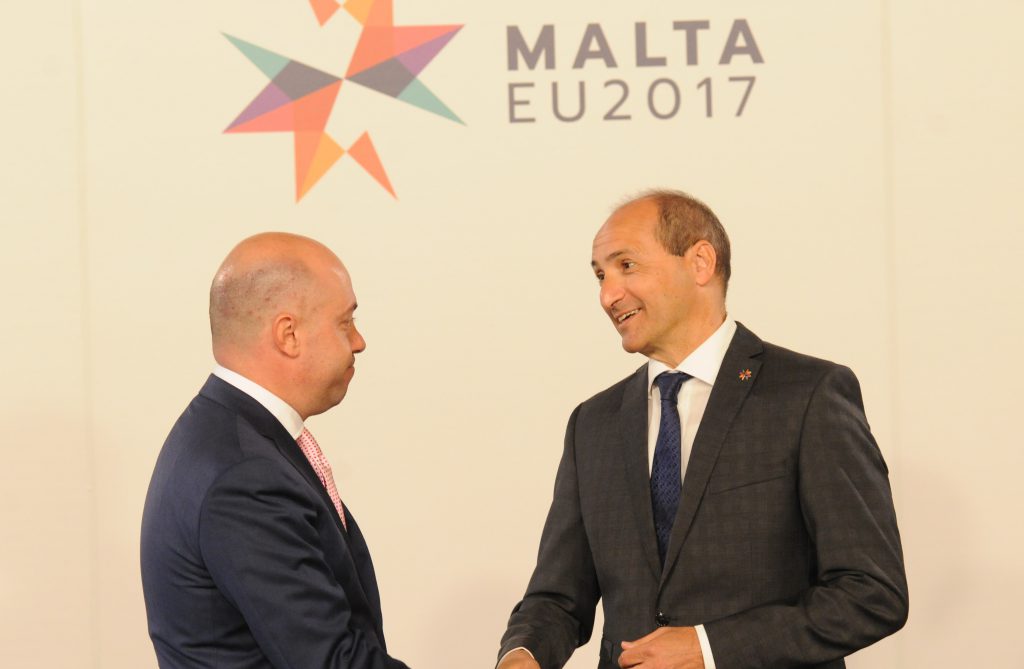 The Minister of Health, Dr Giorgos Pamporides, participated in the deliberations of the Informal Meeting of EU Health Ministers, which convened in Valetta on 19 – 20 March 2017, under the Maltese Presidency of the Council of the EU.
The meeting discussed the thematic priorities that the Maltese Presidency has selected, namely Childhood Obesity, HIV and Structured Cooperation between Health Systems.
A mid-term evaluation of the EU Action Plan on Childhood Obesity 2014-2020 has revealed that member states have been more active in certain action areas compared to others. The meeting sought to establish the willingness of European countries to engage in areas where action had stalled including food labelling and taxation, marketing and the empowerment of families and to share practical experiences on this matter. The Ministers discussed how can adequate supply of a healthy diet to children be ensured through multiple instruments. The EU Health Ministers agreed that a multisectoral approach is required to tackle the rising trend in childhood obesity. They also discussed how the European Commission can support a cross border approach to address this challenge.
With regard to HIV, the Ministers discussed how concerted action at EU level could be escalated in order to fast track actions on HIV and to end the AIDS epidemic by 2030, thereby exploring ways of keeping this objective high on the European and global agenda. Whilst many member states have strategies for action, it was agreed that more action is required. They also voiced their concerns on the costs of newer forms of treatment and the measures that could be taken to reduce such costs. Member states were supportive of the technical Malta Declaration on HIV.
EU Health Ministers also discussed the possibility of a voluntary structured cooperation approach in order to facilitate access to expensive innovative health technologies. They agreed on the need to work together on Horizon Scanning to be better prepared for the impact of innovation on health systems and to monitor and evaluate the effects of these therapies once they are being used in real life.
During his intervention, Mr Pamporides noted that Cyprus supports cross-border cooperation for the purposes of joint medicine procurement at all levels, both as regards the exchange of information and practices as well as concerning joint procurement procedures, joint price negotiations and common evaluations. He also said the problem of accessibility to innovative medicines and technologies is much more evident in small EU member members, pointing out that cooperation and the development of mechanisms for joint procurement procedures regarding innovative medicines and technologies could reinforce negotiating power and contribute to the efforts for the equal access of patients to specialized treatments, particularly regarding rare diseases.
Lastly, the Ministers expressed their views on voluntary structured cooperation to facilitate cross-border post-graduate medical training in innovative or highly specialized services. The value of such an approach is to build capacity throughout the EU in the context of uneven availability of medical expertise throughout the EU.
On the sidelines of the Informal Meeting, Mr Pamporides held bilateral meetings with his European counterparts, where he had the opportunity to exchange views with his interlocutors on current issues pertaining to the health sector./IBNA
Photo: pio.gov.cy