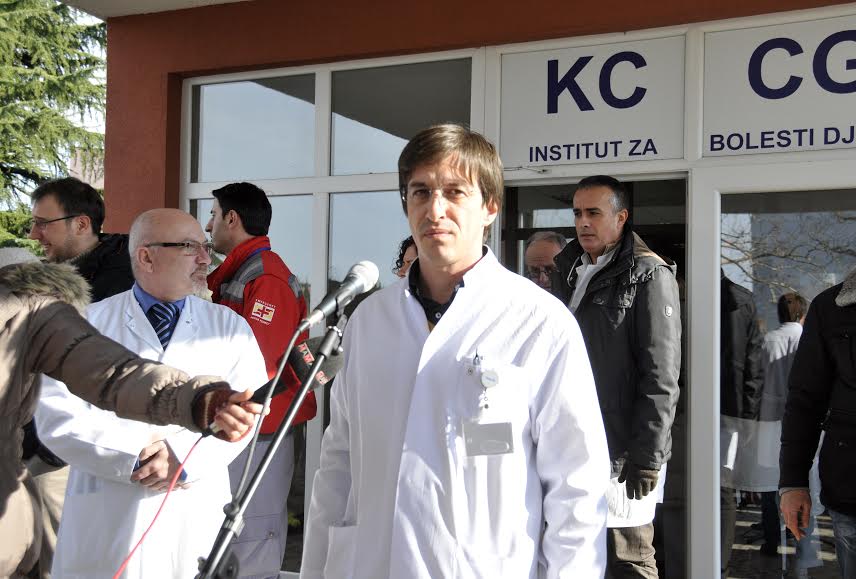 Podgorica, December 29, 2014/ Independent Balkan News Agency
By Adnan Prekic
After the arrest of six doctors suspected of omissions in the treatment of infants at a hospital in Bijelo Polje, health workers have organized a protest. Six doctors were arrested because of the infection in the maternity hospital.
Five infants had been contaminated with the infection, one of who died. The infection in the maternity clinic of the hospital had resulted in the resignation of the Health Minister Radunovic.
In his resignation, which he read on the central news program of the national television, Radunovic said: "Unfortunately, babies also die in the most developed countries with top medical care and developed democracy. But, in these societies, a failure of the part of the system cannot be the reason for baby dieing. And that has to be our lesson: This happens only in the countries which have established a system in which something like this is not possible. That is why I resign".
The doctors of the Clinical Center of Montenegro protested today because of, as was announced, the "inappropriate and scandalous" arrest of their colleagues. The union of medical doctors said that the arrest of a doctor undermines the dignity of the profession, and that doctors are transformed into criminals and systemic, causing damage to the patients and the whole society.
The doctors have said that in Montenegro, even for the criminals, the presumption of innocence is respected. As they said, this is not the case for healthcare professionals and they said they have to fight for it.
After the investigation of infection in the maternity clinic, police have arrested six doctors,  a director of the hospital in Bijelo Polje Tomislav Jeremic and the doctors Zvonko Puletic and Haka Tahirovic.
Also, two doctors from the Clinical Centre in Podgorica Filip Vukmirovic and Ljubinka Dragas have been arrested, as well as a medical technician S.J., who was released upon hearing.