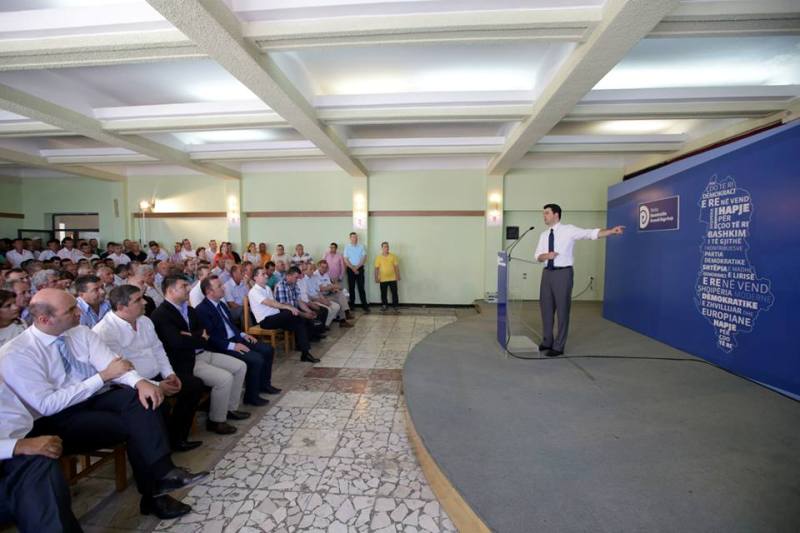 Tirana, July 2, 2014/Independent Balkan News Agency
Democratic Party, the largest opposition force in Albania has held elections for the party structures throughout the country.
These elections have been accompanied by an analysis of the big defeat that DP suffered last year after eight years in power.
In all the analyses that have been carried out, there have been many accusations about local former heads of DP and state officials appointed by this party.
They have suggested that none of the previous officials should run for the leading structures of the party. This request has also been approved by the head office of the party.
The party proposed and elected new figures in this process.
The head of the Democratic Party, Lulzim Basha says that a new wave is being brought by the opposition.
Speaking today in the DP election assembly in Kruja (photo), Mr. Basha considered the party elections as very important for the recovery of the party, its opening to new elements and its unification.
"By putting the free vote at the foundation of the party's career system, every member is responsible to elect those who will lead the Democratic Party toward victory", said the leader of opposition.
Basha also stopped on the serious economic and social situation that the country is going through under the current government.
According to the head of DP, today, Albanians everywhere are feeling poverty, taxes are increasing every day and unemployment has reached its peak.
In front of this situation, Mr. Basha has demanded from the new heads of DP to draft platforms of development for their areas in order to then come out with a joint platform for the new government of the country.
"We're here to offer Albanians a platform of development. A true alternative and not a lie, to offer employment opportunities, wellbeing, safety and a strong economy", said Basha.
The Democratic Party was founded in 1990 as the first opposition force after 45 years of a mono party communist regime. It led the country from 1992 until 1997 and Sali Berisha was president of the country.
The collapse of the state and the incompetence of the right wing government to manage the crisis of the Ponzi schemes, led to the overthrow of this party.
Eight years after the left wing remained in power, Berisha came back with the anti-corruption card. The same card was also played during the previous eight years by the left wing led by Edi Rama until 2013, when it came back into power, thanks to the coalition with the Socialist Movement for Integration of Ilir Meta, who abandoned the right wing after governing for four years with it. /ibna/