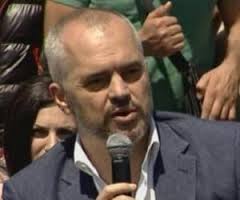 Tirana, May 25, 2013
Paskuqan is one of the most isolated areas of Tirana, said today the leader of the Socialist Party, Edi Rama during a meeting with inhabitants of this area.
"Time has frozen as far as the care shown by the state is concerned and it has passed as far as the growth of the number of inhabitants is concerned. But they remain isolated and in the worse conditions than the places where they come from, such as the pollution of this area and the lack of property titles. Those who moved here came for a better life and to offer their children an opportunity to be born and grow in the capital, but not in a place like this where there's great poverty, extreme unemployment and a lack of hope", said Rama.
Rama said that his talks with the people are different to those that Prime Minister Berisha holds with people.
"I believe that you have compared the meetings that we hold with people and those that Berisha holds with people, where there are public servants who pretend to be farmers or people whose homes have not been legalized, etc. Here we see common people that voice their concerns. I would have liked to have invited even the democrats of this area, but not the school principles because they're too busy with Berisha's campaign. But they are not true democrats, because they milk the benefits of the power. The problem is not that democrats received their property titles and socialists not, it's not that democrats have water supply and socialists not, all people suffer the same. Therefore, common democrats must take responsibilities as citizens of this country not to feed with their vote the power of this family which doesn't represent the interests of anybody, but only the interests of a handful of people which keep Albania a hostage with stolen votes", said Rama.
Rama said that during these 8 years, Berisha didn't resolve the problem of legalizations. Rama invited people to test the opposition in order for it to demonstrate its abilities in solving this problem.
As far as the problem of unemployment in Paskuqan, Rama said the SP offers a new perspective for employment. "There's no real policies for real employment. There's only propaganda and one needs to be a party member in order to be employed. But even this is not sufficient now, as money is needed. We will offer a new perspective for people who want to live through honest work. This is done by creating new jobs, by offering the right conditions for investments in production, by making professional schools a priority", said the leader of the SP.
NATO accession is a merit of our strategic partner, the USA and not the merit of the government, said Rama stressing to the participants in this meeting that NATO accession and the integration in the European Union means that Europe will be built in Albania. According to Rama, the vote is not a stadium ticket. "Whoever tells you that Albania will become like Switzerland, lies to you. After 20 years, the air is more polluted, the condition of day care homes and schools even worse. In 4 years time, Albania will not be like Switzerland, but there will be a state", declared Rama from Paskuqan. /ibna/