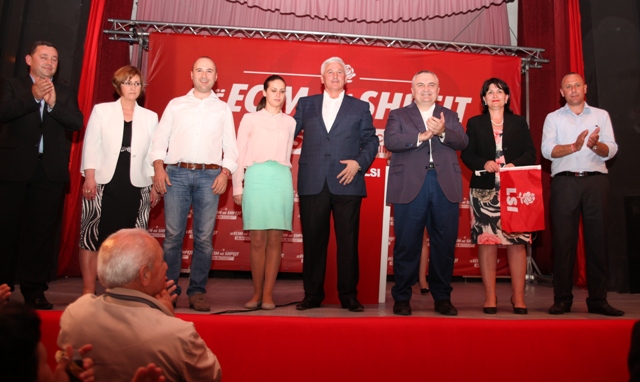 Kuçovë, May 16, 2013
The leader of the Socialist Movement for Integration, Ilir Meta was in Kuçovë today to present the candidates for parliament in this constituency.
During his speech, Meta said that the political rotation will open a new chapter for Albania on June 24.
Meta expressed his conviction about the victory, underlining the fact that the coalition of the Alliance for a European Albania is the widest coalition that has ever been formed in these two decades of political pluralism in the country.
According to Meta, the opposition coalition is solid, whereas the right wing is divided and in panic.
As far as the declarations of Prime Minister Berisha for the liberalization of the visa regime with the USA are concerned, Meta said that, "The USA has rejected this prime minister a while ago, although he promises that he will lift the visa regime with the USA. The reason for this relates to the fact that the concentration of all powers in one hand is unacceptable, not only for west, but also for us as citizens of a country that wants to be integrated in the EU. Berisha is not serious at all about the issue of the integration. Now that we're ready to vote the three laws of the integration, with the condition that they come into force after the elections, he pretends he doesn't listen", said Meta.
Meta said that Berisha has turned into an obstacle for the country and for political collaboration, which has turned into a necessity in taking the country forward. /ibna/