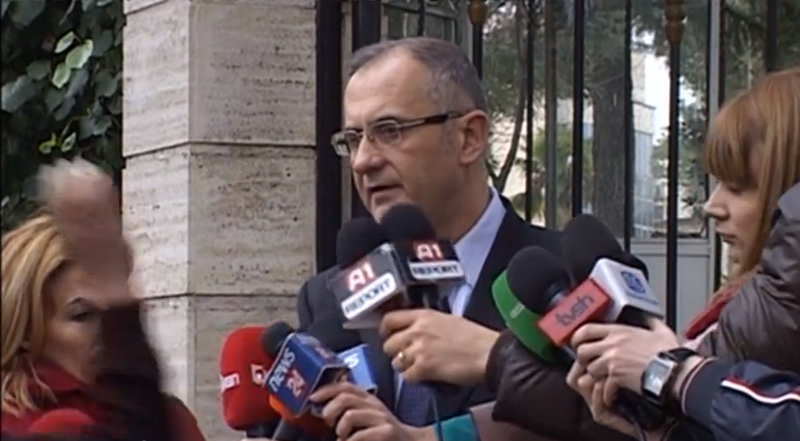 Tirana, March 4, 2014/Independent Balkan News Agency
The head of the parliamentary group of the Socialist Movement for Integration, the second political force of the majority, is attacked with eggs by a citizen in Tirana as a sign of discontent.
The incident took place in front of the Presidency gates this afternoon (04.03). Petrit Vasili had just finished a meeting with the president of Republic, Bujar Nishani. Mr. Vasili stopped at the gates of the Presidency in order to comment the meeting for the journalists, when a person approached him and attacked him with eggs (photo).
At this moment, Mr. Vasili ducked and when the citizen approached to attack him again, he left.
Meanwhile, security forces of the Republican Guard immediately approached, stopped the citizen who after he was delivered to police, it was discovered that he was the 68 year old Mustafa Gjyzeli.
The person in question claimed that he had attacked Mr. Vasili as according to him, he had lied to him about finding a job for his son. "I attacked him out of anger, as he didn't find a job for my son", said Gjyzeli.
SMI, which governed 4 years with former prime minister Sali Berisha and now governing with Edi Rama, is widely known as a party which "works hard" to employ people. /ibna/