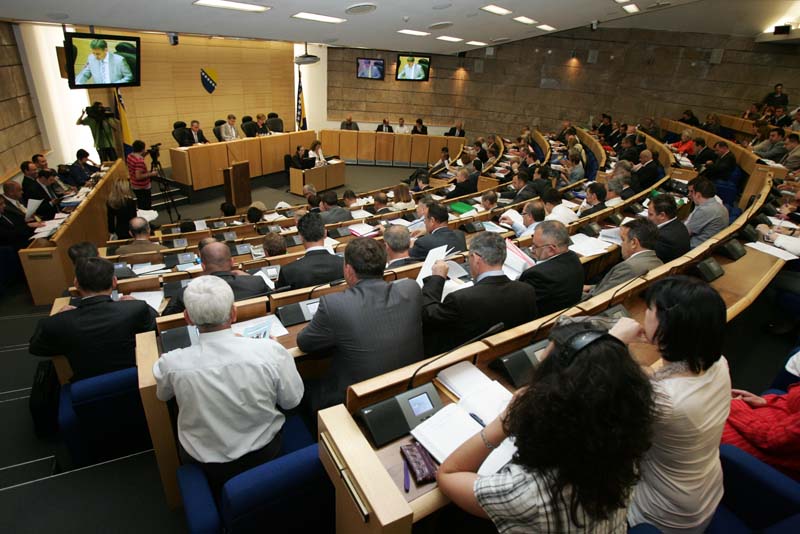 Sarajevo, March 5, 2015/ Independent Balkan News Agency
By Mladen Dragojlovic
Director of State investigation and protection agency (SIPA), Goran Zubac, was sentenced by the BiH state court, on Thursday, to one year suspended sentence for negligence.
According to this first instance verdict, Zubac will not serve the sentence in jail if he doesn't commit any criminal offences in next two years. The controversial thing is that SIPA is in fact the BiH state police unit and Zubac is the head of it, which implies that he is the last person in the state which should do anything against the law. Zubac has two weeks to file a complaint on the verdict.
Explaining the verdict, judge Mirsad Stika said that the Court, beyond reasonable doubt, concluded that Zubac is guilty for negligent performance of duty and didn't respond on the request of the BiH Directorate for Coordination of Police Bodies to engage the SIPA Special Support Unit during the violent demonstrations in Sarajevo at February 7, 2014. The consequence of these demonstrations was that several buildings of BiH institutions were torched, which caused damage worth more than 10,000 BAM (about 5,000 euro).
Judge Strika added that SIPA and Zubac were obliged to coordinate with the Agency, in order to prevent violence on Sarajevo streets. He also said that absence of agreement between agencies cannot be excuse for failure in aid, because there was a legal basis for SIPA engagement.
Zubac's lawyer, Dragisa Jokic, told the media that he will not comment on the verdict before he receive full written explanation.
"In this case we speak about the implementation of regulations. The court concluded that there is responsibility on behalf of my client but I am convinced that it doesn't exist, said Jokic and confessed that he didn't expect such a verdict.
Jokic added that this verdict is not final, but first instance. If the second instance court decide to confirm this verdict, all conditions for Zubac's removal from SIPA will be fulfilled.
Zubac is sentenced on an indictment which accused him of  criminal act of negligent performance of duty, because during violent protests in front of the BiH Presidency building in the Sarajevo downtown, on February 7 last year, he did not provide the required assistance to the Directorate for Coordination of Police Bodies.
A few days after the demonstrations, several members of relevant BiH Parliamentary Independent Commission demanded his removal from the position of SIPA director, but the official demand was never sent in BiH Council of Ministers.