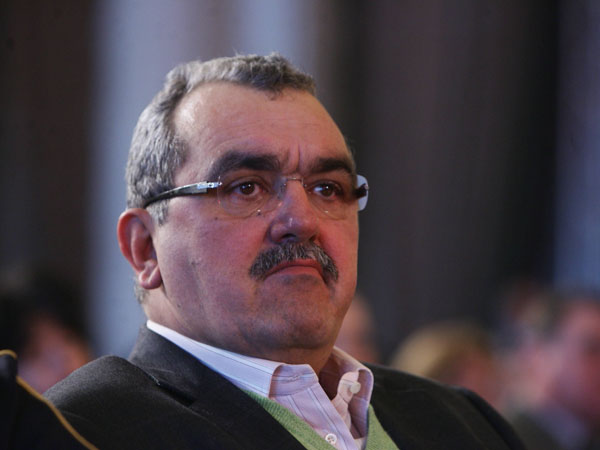 Bucharest, February 13, 2015/ Independent Balkan News Agency
By Daniel Stroe
Miron Mitrea (photo), former minister of Transport and once one of the strongmen of the ruling social-democratic party, was today sentenced to two years in prison on charges he took a 300,000 Euros bribe when he filled the ministerial position more than a decade ago.
Mitrea also has to pay damages amounting to 327,000 lei (about 75,000 Euros). Mitrea was charged by the National Anti-Corruption Department (DNA) that, while a minister of Transport and Public Works more than a decade ago (in Adrian Nastase's social-democratic government, himself twice jailed for corruption, the biggest "fish" sent behind the bars so far by DNA), received a 300,000 Euros bribe in the form of refurbishing works at his mother's house.
The works were commissioned by Irina Jianu, then the head of the state construction agency. In return, Mitrea agreed to keep her in a leading position at the agency. The file was resent to DNA by the High Court of Justice. Jianu was also sentenced to five years in prison. She denied all the charges brought against her. Mitrea's mother alleged before the judges her house near Bucharest had been renovated with a pension she received after living many years in Germany.
Anticipating the judicial outcome, Mitrea resigned from the social-democratic party led by PM Victor Ponta. Early February, he resigned from the Chamber of Deputies.
Mitrea turned himself in at the Constanta County Police after the verdict was passed today. He will be imprisoned at the Poarta Alba Penitentiary since he had changed his address so he wouldn't be imprisoned in Bucharest.
The file needed more than a year so that prosecutors could prosecute Mitrea. In September 2007, DNA asked then President Traian Basescu to approve Mitrea's prosecution since he held a ministerial position. In January 2008, the President notified the minister of Justice.
In April 2008, DNA sent the prosecution request to the Chamber of Deputies but the first vote failed due to lack of quorum. A second voting session, in August, ended with the deputies rejecting the prosecution request. He resigned though in September, but was re-elected in 2012. In March 2009 he was officially indicted for corruption. Mitrea used to be one of the social-democratic party's strongmen during Nastase's government, but he soon lost the primacy as his party boss also conceded ground to the new generation of politicians led by Victor Ponta.