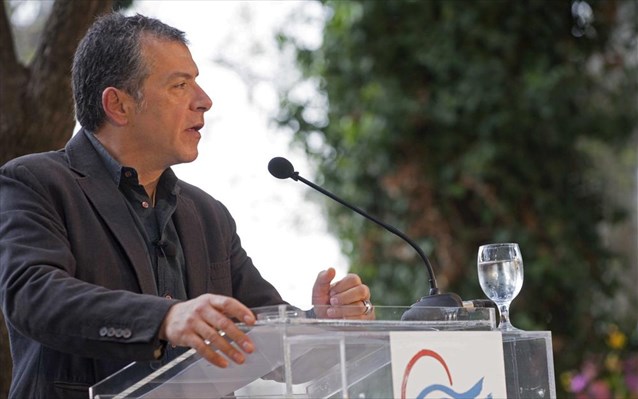 By Spiros Sideris – Athens
From the square of St. Panteleimonas in Athens, where he heard the concerns of residents and answer their questions, the head of the "River" called for a "Common European Asylum System, in order to provide the refuges with a european asylum and not a greek, italian or spanish", and stressed the need "to demand, in alliance especially with the Italians, for the borders to be exclusively guarded by Frontex".
Greece, he said, "in migration as well moves between the "Right wrong" and the "Left wrong", noting that the River does not propose for a solution "neither the legalisation of all those who manage to enter the country illegally, nor the opening of the borders".
Of course, as Theodorakis explained, "those who are in need of protection, ie refugees fleeing their countries to save their lives, Europe should provide them with shelter. But not Greece alone", while with the help of the EU those "economic immigrants who enter the country illegally should be returned back to their countries".
Criticising the government, he said that "during the Greek Presidency they didn't claim what the Italians claimed and achieved for their own country", noting that "we would have saved at least 60 million euros" that Greece is "spending on border protection"; money that "could be used to relieve districts like Ag. Panteleimonas".
Stavros Theodorakis advocated the establishment of a coordinating body for Immigration, which will coordinate the government services and save money, as well as the need for the social integration of immigrants and refugees in all cities, according to the population, while also stressing the need for local governments to set standards of living, and establish how many immigrants can live in an area, how many people live in each apartment and under what conditions.
The head of the River also explained the conditions under which migrants and refugees could stay in Greece: "To speak our language and accept the european values​​. The equality of women, the education of children (boys and girls) are inviolable conditions for those who want to live in Greece", while condition for a whole family of immigrants to stay in the country is "the education of adults to public greek language learning facilities, and the schooling of their children".