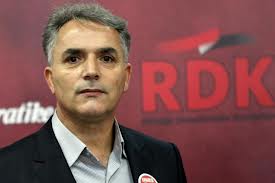 Skopje, June 27, 2013
The leader of the National Democratic Renaissance (RDK) of FYR Macedonia, Rufi Osmani has hailed the victory of the left wing in the June 23 parliamentary election in Albania.
He has sent telegrams to the leader of the Socialist Party, Edi Rama and leader of the Socialist Movement for Integration, Ilir Meta.
"Your great victory in the last parliamentary elections through the free vote of the Albanian people is a vote for the much anticipated change, for the end of transition and for the Renaissance of Albania and Albanians. Your commitment, your knowledge and your great will to make great changes led to the verdict of the Albanian people. Your program for a renaissance in education, economy, institutions and to restore hope of the people on the state, deserves respect and full support. We're convinced that the Alliance for a European Albania will make Albania and Albanians in the medium term part of the European family and it will restore the lost faith of the people on state institutions", states the message of Rufi Osmani.
The role of SMI is also underlined in this telegram.
"The role of SMI as a reformatory political force to make the big turn with You as a modern leader, is a positive unprecedented case which will be engraved in the history of modern politics. We're convinced that the Alliance for a European Albania will make Albania and Albanians in the medium term part of the European family and it will restore the lost faith of the people on state institutions", states the telegram of the head of RDK, the political force which is represented by two MPs in the parliament of FYROM. /ibna/