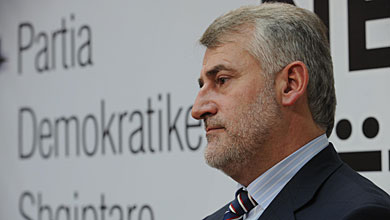 Skopje, November 25, 2013
Leader of PDSH, Menduh Thaci believes that the issue of the status of Albanians in FYROM can be resolved through the mobilization and organization of Albanian youth in the country.
"Our political engagement, especially that of the youth, can take us out of the big crisis. We face basic shortages in our life, lack of perspective, pack of ideas, lack of infrastructure, lack of objects, health institutions, educational institutions and so on", declared Thaci.
Thaci invited youth to be involved in politics in order to fulfill as soon as possible their scopes and objectives.
"I would ask you to be involved. If you are told that nothing comes out of politics, then I tell you that this is the desire of Macedonians, for us to be an apolitical people. A people not involved in politics cannot achieve its objectives", said Thaci in the proceedings of the conference of Albanian Democratic Youth in Bogovina, Bervenica, Tearca, Zhelina and several other communes. /ibna/