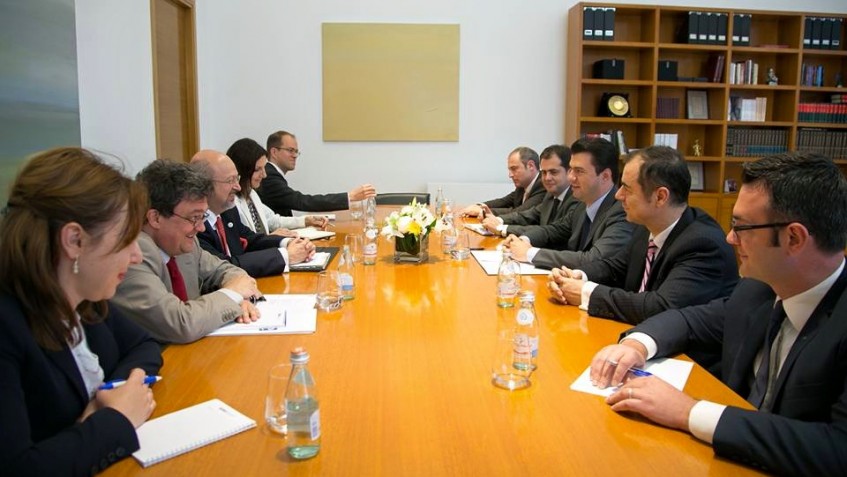 Tirana, 27 May 2015/Independent Balkan News Agency
By Edison Kurani
If standards are ruined in these elections, this would be a hard blow against the process of European integration for Albania.
This was said by Secretary General of OSCE, Lamberto Zannier, who met (photo) in Tirana with the leader of Albanian opposition, Lulzim Basha.
Present in this meeting was also ambassador Florian Raunig, head of OSCE presence in Albania.
Mr. Basha shared with the highest representatives of OSCE his concerns about what he considered as constant efforts of the majority to change the will of voters and by putting at risk the standards of free and fair elections.
This majority, said Mr. Basha, has shown in the elections in Korca that it's far from the standard of free and honest elections. "After it was proven that votes were bought in Korca, this majority took no measures, although it was responsible for it. In an unprecedented way, this case was subject to an amnesty", Basha said.
The democrat leader said that there are tens of cases which have recently become public on the media, which, according to him, show the government's scheme to rig the elections.
Basha had denounced before the heads of OSCE "the involvement of people with criminal records in candidate lists".
"After the majority promoted them in high posts of administration and parliament, it has also promoted them for mayors. In spite of the engagement of the Democratic Party, there is a lack of will by the majority to adopt the legal acts which would prevent people with criminal records to run in the June 21 elections", Basha said.
In this meeting, the democrat leader has also brought up other arguments which the opposition believes to constitute serious violations of the electoral code and it considers as an effort of the government to manipulate the elections.
At the end of the meeting, Zannier warned that "there will be a detailed report on what will happen on June 21".
Political climate in Albania has become tense in the recent days as a result of the constant electoral clashes. Leaders of majority Edi Rama and Ilir Meta are calling for Albania to vote the left wing in these local government elections.
Mr. Rama goes even further by publicly warning voters that "if you vote the Democratic Party, you will cause troubles for yourself", continuing with the claim that "it will not carry out any of the works that you need".
These reiterated calls by the majority are seen by the opposition as typical communist appeals which according to the right wing, aim at going back to the old methods, alluding to the Labor Party of Albania, which in 1991 changed its name to the Socialist Party and which was entirely reformed. /ibna/