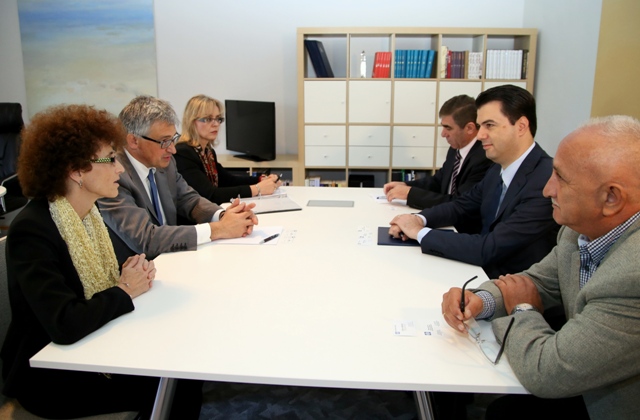 Tirana, October 23, 2013
The head of the Democratic Party, Lulzim Basha received today in a meeting the representatives of the World Bank, executive director, Pipero Cipollone and the directress for southeast Europe, Ellen Goldstein.
During this meeting, Basha gave a picture of the current macro economic situation and the latest developments which led to political rotation in Albania.
He expressed to the WB representatives the concerns risen during a month of socialist government relating to domains such as: the civil servant act, the Normative Act for the changes in the budget bill, annulment of lawful concessions by the socialist government, the little optimistic prognosis about the economic developments in the country and insecurity of consumers and investors.
Basha also talked about the developments in the fiscal administration, a domain which according to him has become an arena of political nominations.
The head of the Democratic Party briefed the WB representatives about the details of the Normative Act on the budget amendments and the legal breaches that accompany this act, which sanctions borrowing not for public investments, like the law requires it, but for administrative and operational expenses.
Basha also demanded to the WB representatives to continue and support Albania with programs and development projects. /ibna/