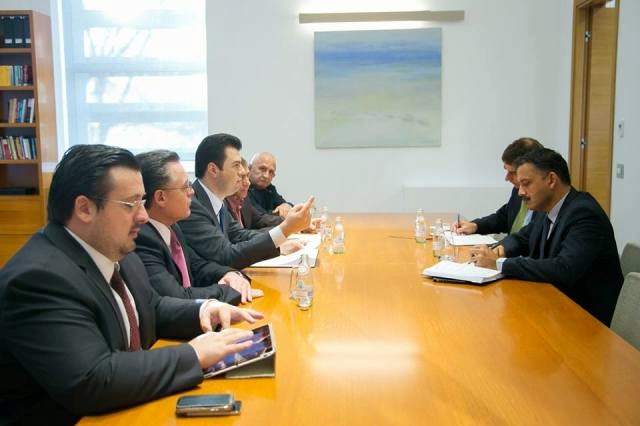 Tirana, November 25, 2014/Independent Balkan News Agency
Leader of the Democratic Party, Lulzim Basha received today the two representatives of IMF, Mr. Nadeem Illahi and Mr. Jens Reinke. He said that in the meeting held with them, he shared his "concern on the situation of the energy sector in the country". Basha has condemned what he considered to be "government's selective actions" and "the fact that the PM threatens and punishes the citizens who have financial difficulties, instead of offering them a possibility to pay their obligations".
Basha said that there's no reform in the energy sector, but simply an austere measure at the detriment of Albanians, by increasing the price of power supply, by cutting off power for those who are unable to pay, due to unemployment and economic misery.
The leader of the Democratic Party also expressed his concern about the lack of transparency that the government is showing in relation to the increase of the price of power supply.
"The government itself doesn't say what the increase of the price will be, while KESH, OST and OSHE are the state agencies which have requested the increase of prices. On one hand, the government requests a rise in price and on the other, it's not telling to Albanian people what this increase is going to be", said Basha.
Leader of opposition reminded to IMF representatives that the government came into power full of promises such as: reduction of the energy price, removal of VAT on energy, adding that: "But they didn't do anything, on the contrary, they increased the price of energy".
In the meeting with IMF officials, Basha also talked about the 2015 budget. He expressed his concern "about the fact that government expenses have gone up, while investments have fallen, by decreasing social support and by not increasing the number of nurses or teachers, but police officers".
Basha said that this fresh rise of taxes is unacceptable, while the increase occurred a year ago produced dramatic effects in the economy of the country. "A new increase will deepen recession and will have catastrophic consequences", said Basha. /ibna/