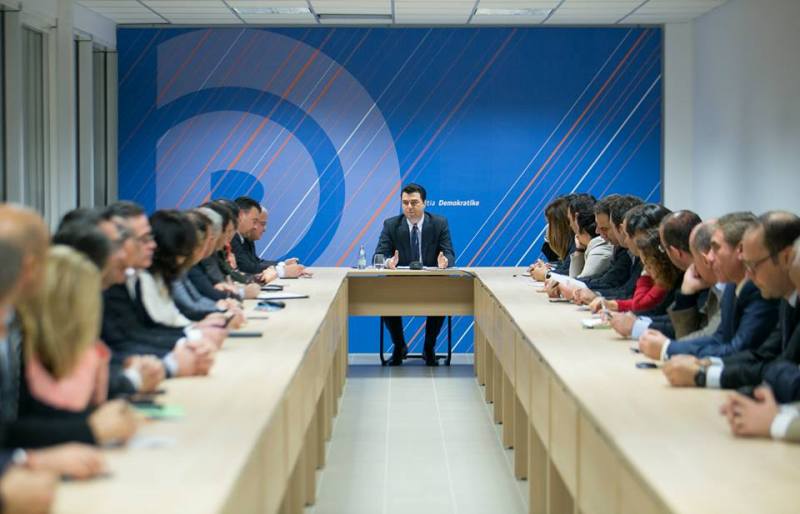 Tirana, December 2, 2014/Independent Balkan News Agency
The Democratic Party, the largest opposition force in Albania, criticizes the governing majority about the way it's presenting to the public the changes in the tax package and the different actions aimed at increasing budget revenues.
Lulzim Basha gathered the new leading structures of the party last night, in order to talk to them about what he called the four big lies that Rama has articulated in front of the people.
He called Rama a TV jongleur who wants to deceive the people on issues such as energy, fuels, employment and consumption.
"The PM promised a reduction of the electricity price. He promised a 14% reduction of VAT on electricity. What did he do? Not only did he not reduce them, but he's increasing them. Through the introduction of a unique price, Albanians will have to pay 160 million USD more, while the government says that it has allocated 16 million USD to compensate people in need", said Basha.
Stopping on the "second lie", Basha said that he considers Rama's declaration that the new tax on fuel will be reduced as unacceptable: "What he's not telling to Albanian people is the fact that while in Albania, the price of fuel goes down by 5-7%, this drop is 35% in a world level. His taxes do not allow the price of fuels in Albania to be at the same level as they are in Europe or the world. The price is higher here, because the extra money is taken by the government".
In the recent days, Mr. Rama has declared in public appearances that consumption has increased and prices have fallen. The head of the opposition says that the facts indicate the contrary. "The truth is that consumption has fallen, prices of goods have increased around 8-10%, exports have fallen and trade deficit is increasing".
Another declaration made by Rama is receiving a lot of media attention. He says that in the current year alone, 81 thousand jobs have been created. Basha says that the opposite has happened: "Institute of Social Securities says that no jobs have been created, on the contrary, one thousand have been closed. Statistics of the Tax Administration and Institute of Social Securities suggests that incomes from labor tax and social security contributions show a fall of the number of jobs by 1 thousand. Meanwhile, INSTAT declares 22 thousand fewer jobs".
As far as the figure 81 thousand new jobs is concerned, there seem to be disagreements within the government too. Yesterday, Minister of Social Welfare, Erion Veliaj, said that out of this figure, one third are young people, while the rest are people involved in the legal employment scheme.
The democrat leader says that these "four lies", follow the ones for free legalizations and free health service, along with the opening of 300 thousand jobs. Basha says that Rama came into power with these promises, therefore "he better keep them or leave".
"Based on the June 2013 contract that you have with the citizens, you have the obligation to: open 300 thousand new jobs, to legalize houses and properties free of charge, reduce taxes for 95% of Albanians, reduce the price of electricity, offer free health service for everyone."
"When you take over power, you must also take responsibilities. Contract with Albania is sacred. You cannot play. There's a rule in the democratic world. When you don't comply with the contract, you don't violate the citizens, but resign. If you don't deliver your obligations, you must leave. Time is passing; people are running out of patience. You're not delivering your promises", says leader of opposition, Lulzim Basha. /ibna/