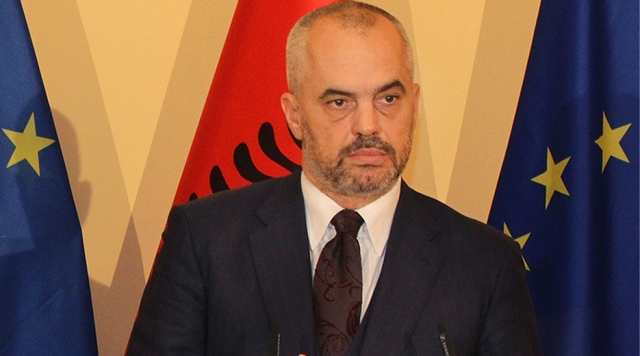 Tirana, November 20, 2013
In a TV interview, prime minister Edi Rama spoke about the issue of the destruction of chemical weapons. He declared that Albania has been involved in these negotiations since the country committed to be alongside USA and NATO, admitting once again that there had been contacts, but rejecting every rumor for a decision.
The head of the government said that Albania is not the first country to be contacted, but other countries too, which have accepted this action in principle.
"In this aspect, there were discussions and a process was built, where alongside technical elements, we and I had the other burden of dealing with another aspect, which had to do with the necessity for this operation to be well coordinated between the large powers, not only in the aspect of direct involvement in it, but also in the aspect of building a plan, where different actors had different roles. What made us worry was the fact that other countries started to withdraw and Albania remained alone. This then turned into a big psychological problem, which first of all related to the fact that Albania doesn't have a good image as a poor and polluted country and on the other hand, it would certainly have a negative cost for the image of the country", said Rama.
As far as the possibility that Americans would strongly lobby in order for the country to be granted the EU candidate status in December and to be made an EU member in 4 years is concerned, the prime minister said that there have been many speculations, but which none of them are true.
Rama said that the leader of opposition, Lulzim Basha was fully aware of this issue.
Asked if the protests forced him to refuse, the head of the government declared that the voice of protestors helped him to decide.
"The fact that we were alone in this operation made it impossible. We are not part of the process for the sake of the benefits that come with it, but with the awareness that we must contribute and that in order to contribute, we must face such difficulties. We have discussed with out partners and they have understood us on this issue in any discussion. The efforts to hold the operation continue. They continue in other directions and it's normal for this to happen, like it's normal that if have an anti-American opposition, an opposition which considers such operation a deception, an opposition which publishes photos of Assad's victims by naming them "Now it's Albania's turn", an opposition that mistakes Assad with president Obama, we had to go back to the starting point", said Rama.
The prime minister also said that his positioning had to be in full harmony with that of the speaker of parliament, Ilir Meta, admitting that he had been in constant contact with him.
As far as the relations with USA are concerned, Rama said that the US government has made it perfectly clear that the Albanian side did everything to support them in their efforts and that Albania didn't lack the desire or the will to participate in this operation, it was just impossible for it. /ibna/