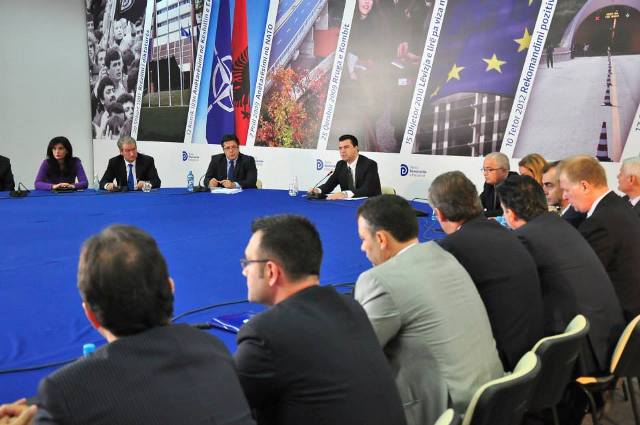 Tirana, November 27, 2013
Democratic Party gathered its parliamentary group today a few moments before the parliamentary proceedings, which will discuss issues of integration.
The head of the DP, Lulzim Basha underlined the role of this party in lobbying about the status and the opening of negotiations for accession in the European Union.
"We are the party that was born, grew and will remain the party of the European dream. Europe must receive from us a clear message from the opposition and green light must be given to the opening of negotiations", said Basha.
In this aspect, the head of DP declared that the challenges for the opening of negotiations must be tackled, stressing that the European Union must be fair about the fact that the country is ready to be granted the EU candidate status.
According to him, Albania was ready to be granted the candidate status since last year, but added that the Socialist Party blocked it in order for the merits not to go to the government of that time.
Basha said that he government must not block the status again, adding that the parliamentary group of DP will submit a draft resolution through which it will demand for the country to be made part of the European family, by mentioning the obligations and achievements of the country. /ibna/