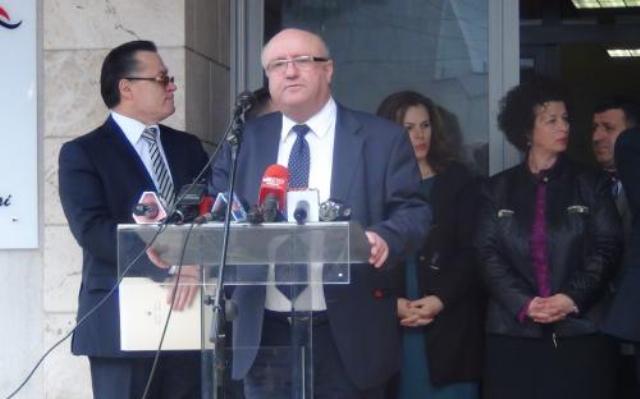 Tirana, December 12, 2013 / Balkan Independent News Agency
Albanian General Directorate of Customs has filed criminal charges at the General Prosecution against Mr. Flamur Gjymishka (photo), former director of this institution on the count of corruption during his time in office.
Directress of Customs, Elisa Spiropali says that her predecessor, Flamur Gjymishka has been involved in the "Ada Petrol" affair, causing to the Albanian state damages amounting to 4 million Euros.
Elisa Spiropali said that she has sent the file along with the evidence to the prosecution not only for the former director Gjymishka, but also for a large number of Customs officials and Ada Petrol company, property of Uldedaj Group, the owner of which has been labeled as supporter of the right wing.
According to Mrs. Spiropali, there are proofs that indicate the abuses of Mr. Gjymishka in the line of duty.
The affair in question involves a number of customs officials who are involved in this abuse, ending up with the former head of Customs.
"We have identified several cases of abuse involving tax evasion in the domain of excise and these persons must be held administratively and criminally accountable. Today I have signed an indictment for employees of customs administration, whereby the entire chain of the administration is involved in these abusive procedures, causing to the Albanian state financial damages. Part of this chain of abusers is also the former head of Customs", said Spiropali.
The denouncement comes a few weeks after authorities discovered from the Customs of Lezha that Ada Petrol company has illegally launched in the market 4400 tons of "Gazoil" fuel. By launching this amount of fuel in the market, customs charges were not paid.
"They don't result to be paid, thus causing to the state a 4 million Euro damage. We have also pressed charges against the company that has caused damages", says Spiropali.
Speaking on the situation in the customs, Spiropali says that besides the abuses, a large number of companies, which are known for their connections with senior government officials before the June 23 elections, have been favored.
The company accused by Customs has not issued any reaction for the media so far in relation to the charges pressed against it. /ibna/