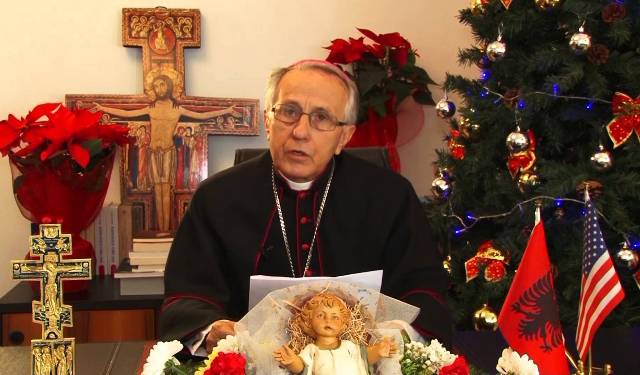 Tirana,  7 December 2015/Independent Balkan News Agency
The Metropolitan Archbishop of the Roman Catholic Archdiocese  of Tirana-Durres, Rrok Miredita, passed away on Monday afternoon.
Roman Catholic Archdiocese of Tirana-Durres announced the death of the Archbishop, due to a stroke. The late archbishop had been admitted a few days ago in a hospital in Tirana.
Miredita passed away at the age of 76. He remained in coma for nearly two days.
Miredita was ordained as a minister on 4 July 1965 by the Archbishop of Tivar, Aleksander Tokic. He has served in the catholic churches of Montenegro, USA and in 1985, his Eminence Cardinal O'Connor, Archbishop of New York, appointed him an administrator of the Albanian catholic centers "The Lady of the Good Council" and "Saint Paul".
In 1991, he visited Albania, which he had known through Albanian migrants in the United States of America. In 1992, Pope John Paul II appointed him Archbishop of the Roman Catholic Archdiocese of Tirana-Durres and of all Albania. After this appointment, he moves to Albania, working to the end of his life for  spiritual elevation and human promotion of the people.
The death of Archbishop Rrok Miredita was conveyed with messages of sorrow by leaders of the majority and opposition. PM Edi Rama expressed his condolences for the death of Rrok Miredita, adding: "Farewell to you who were a friend of everyone!"
Meanwhile, the leader of the Democratic Party, Lulazim Basha praised the work of the Archbishop for the spiritual uplifting of the country.
"Monsignor Miredita will be remembered for his great commitment in the spiritual uplifting of the country, after the criminal regime that deprived Albanians from the right of creed and which destroyed churches and mosques."
Monsignor Miredita was ordained Bishop in the apostolic visit of Pope John Paul II in Albania in 1993. /ibna/