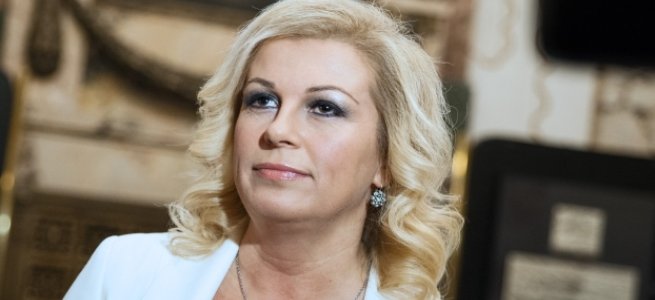 By Marija Avramovic – Zagreb
Presidential candidate of Croatian democratic union (HDZ) Kolinda Grabar Kitarovic, commenting on the decision of the Constitutional Court on the referendum question, stated that she accepted the court's decision, and that the government's imposing of cyrillic boards is wrong.
At the celebration of the Assumption of the Virgin Mary in Trsat she said that the Constitutional Court referred to the fact that the dialogue, tolerance and trust are important.
She stated that she spoke with people of Vukovar, saying that "when you hear their stories, it makes you want to cry with them".
"You know, if someone had murdered my children, I do not know if I could manage to forgive. They have forgiven, but not forgotten, and let's not touch these old wounds", Grabar Kitarovic said.
Grabar Kitarovic invited to the talks with Vukovars on their real problems, from the rights of raped women, to the restoration and creation of new jobs.
"To me, the act of imposing cyrillic boards by the Government seemed as if people were forced to shove something, and it was not resistance against minorities and the dialogue, it was resistance to the imposition of something with more of an instance instead going among the people and discussing it with them", concluded the presidential candidate of the HDZ.
Asked about presidential campaign, she said that she was aware that the election campaign would be vile, but also said she believes the citizens' trust and that she's not afraid of absolutely nothing.
On the topic of the beginning of registration of same-sex couples in Croatia, she said that she saw homosexuals as neighbors and friends and believed that most of them do not want to be stigmatised.
"They are citizens, and the only minority which I admit is a person, a man who will be the focus of my campaign and program".
Current President Ivo Josipovic said that he was not interested in what Mrs. Grabar-Kitarovic had said, and if she had told that campaign would be outrageous, "she probably knows something about it, I guess she is preparing such a campaign".
"As for me, I never ran a campaign that would be dirty. Speaking of what happened so far you have seen from whose team came what she calls vile", he said.