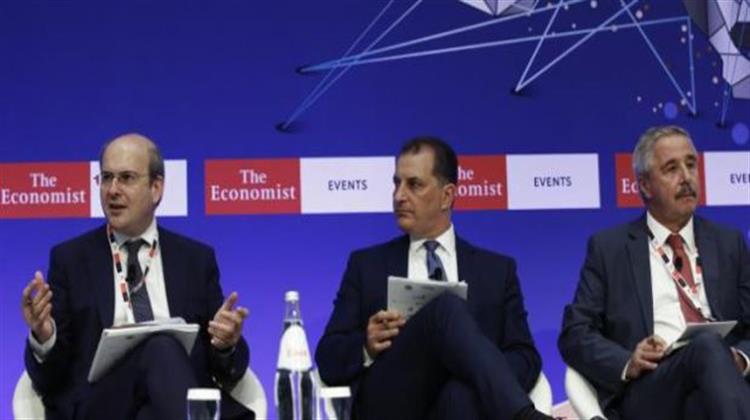 The Greek Minister of Environment and Energy, Kostis Hatzidakis and the Cypriot Minister of Energy, Industry and Commerce, Giorgos Lakkotropis, had the opportunity to meet and talk on the sidelines of the International Economist conference.
The meeting took place in an exceptional climate and covered the entire network of bilateral energy relations between Greece and Cyprus.
In this context, an exchange of views was held on the upcoming Cairo Summit and the transformation of the Eastern Mediterranean Natural Gas Forum into an international organization.
Also, the two sides addressed Turkey's provocations in the Cyprus Exclusive Economic Zone.
Finally, issues related to the electricity interconnection of the two countries were discussed, as the processes related to this project are under way.
It is recalled that Hatzidakis' visit to Cairo is due to take place at the East Med Gas Forum on July 25 and 26, followed by a quadripartite meeting on July 29 in Athens, with the participation of Cyprus, Greece, Israel and USA.
The newspaper "Cyprus' Kathimerini" reported that a quadripartite meeting of the Ministers of Energy of the Republic of Cyprus, Giorgos Lakkotropis, of Greece, Kostis Hatzidakis and of Israel, Yuval Steinitz, along with US Assistant Secretary of State for Energy Affairs, Francis R. Fannon, was decided at the Economist International Conference in Athens
The East Med Gas Forum, which has a permanent seat in Egypt and involves Cyprus, Greece, Italy, Israel, Jordan and the Palestinian Authority, has as its object the exploitation of the Eastern Mediterranean hydrocarbons in order to enable the region to compete with other major emerging players worldwide, such as the US.
"We are focusing on cooperation in the Eastern Mediterranean, we are investing in cooperation with Cyprus, Israel, Egypt and the US, we believe we can boost the country's position geostrategically and economically, with the energy and investment that can be made in this sector as a catalyst", Hatzidakis said.
The importance of this organization was also highlighted by Giorgos Lakkotropis, explaining how important the cooperation between the seven countries is, in addition to the equally important platform of cooperation created around the East Med gas pipeline./ibna