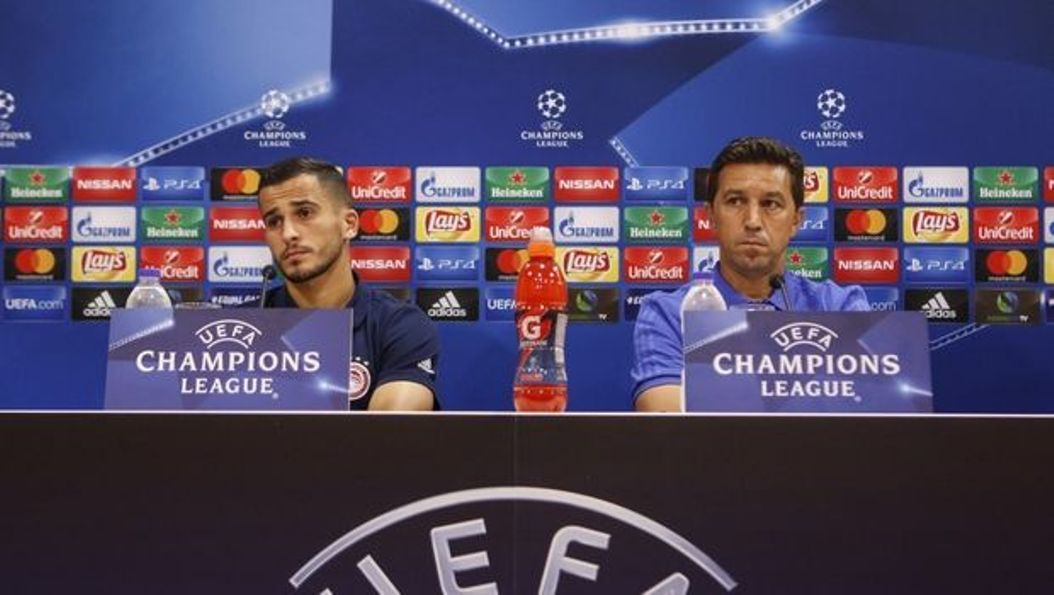 Olympiacos' FC coach, Besnik Hasi, has admitted that he has devised his plans for the starting lineup against Rijeka. His first goal is to win without goal in the "red-white" goalpost.
Read the full press conference:
-What did you assistant tell you about Rijeka's domestic league match against Osijek: "Firstly, domestic leagues matches is one thing and European fixtures another. We don't draw conclusions based on that or any other match. We have studied Rijeka in depth using also other matches of theirs as well".
-On Omar and Odjidja: "I don't know if Omar will play. He will definitely be in the squad, yet we don't know if he will start the match or stay at the bench. As for Ofoe, he resumed training and we will review his state and make up our mind".
-What's your ideal score for tomorrow's match: "We all know that European fixtures are different to domestic league ones, and particularly against this side. If they take the lead, things will be tough. We want a good result, especially before our fans, which we will keep till the end; so it will be most welcome whatever this may be".
-On the fact that it's been 15 days since the side's last official match and on the squad's state: "We will see how time has affected us. Like all teams, we did have our share of problems. Injuries occurred during our pre-match preparation. Some players lose their momentum, others build it. We will try to have the best state of mind upon entering the pitch and keep this element to our benefit; if so, things will go fine".
-What team is better? Partizan or Rijeka: "This is something I will not do right now. Probably, you might ask me after having played both matches against them".
-Should he have two options for tomorrow's match, to win by a goal's lead and keep a clean sheet or earn a goalless draw 0-0, what would he choose?: "I don't believe in fairies and I try not to daydream that much. As said, it is very important to keep a clean sheet, however when one plays at home, it is important to get the win".
-On the viewpoint that Rijeka is on par with Partizan and whether his players might underestimate them: "Nobody thinks like that because we know that Rijeka is a fine team that has knocked Salzburg out and has kept the same squad compared to last season. They feature young players of 23-27 years old who are in fine form and they surely make a tough opponent".
-Whether he is waiting the last training session to decide on any change in his plans: "I have already made up my mind and drawn my plans. We had three great training sessions in the past 3 days. We are focused and we want to keep it like that".
Omar Elabdealloui:
From his side Omar Elabdellaoui expressed confidence that he is ready for the Olympiakos matches with Rijeka, while knitting the praise of the Croatian team.
-On the image they have of Rijeka: "They have a strong team that works really well, is well organized and plays mainly in the counter-attack. So, we already know this is going to be a difficult encounter".
-What difference does it make for Olympiacos to play the first match at home and what does the team have to have in order to claim a positive result: "Of course, it is different when one has to play the first leg at home. In any case, we will have two matches to play. What we want is a good result at home before going to play against them abroad".
-What is your degree of readiness? "I don't know if I am going to play. I don't know if I will feature in the match at all. Following that injury of mine, I played in our last friendly, as you have seen, and I feel quite ready"./IBNA
Source: Olympiacos FC