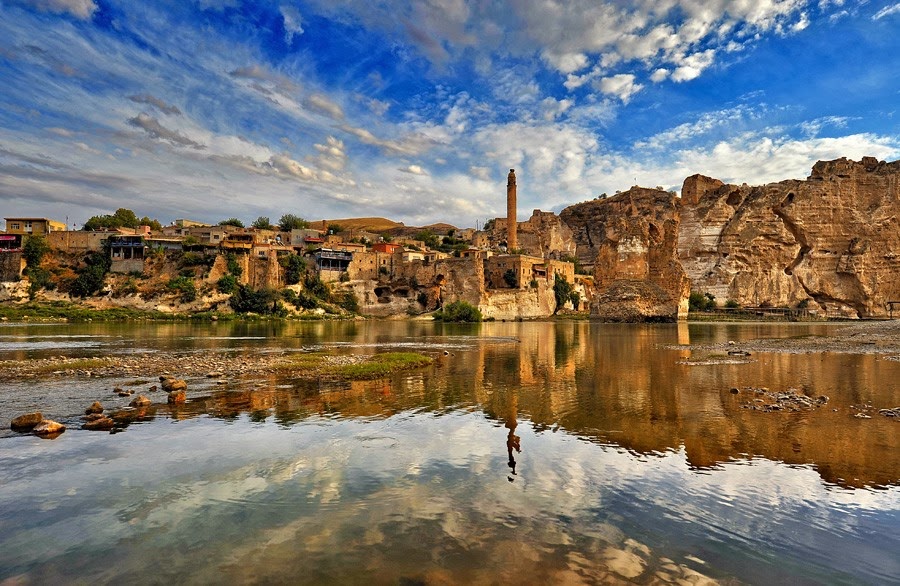 It is a beauty, a historical "gem" and in 1981 it was declared a natural conservation area by Turkey itself, in the southeastern part of which it is located. Hasankeyf, a 12,000-year-old ancient settlement has been inhabited by numerous and various peoples (Arabs, Armenians, Assyrians, Greeks, Romans, Persians, Kurds, and many others) and during Atatürk's Reforms in the 1920s and 30s, the Arabic "rock fortress" or "Hisn Kayf" was given a more Turkish-like name, the one known until now, Hasankeyf.
Today, its gorgeous nature and magnificence, immovable artefacts of extreme historical significance, all face obliteration; its destruction might come sooner than expected, mainly because a huge Turkish dam project, the Ilısu Dam and hydroelectric power plant project (HES), was given the green light by the country's Constitutional Court.
The ruling will allow the state to cause total destruction to the wider area, since, quite unfortunately and unbelievably so, "The Ilisu dam, part of the Southeast Anatolian project (Gap) and one of Turkey's largest hydroelectric projects to date, has been mired in controversy ever since it was first drafted in 1954. The dam will raise the level of the Tigris at Hasankeyf by 60m, submerging 80% of the ancient city and numerous surrounding villages, including more than 300 historical sites that have still not been explored", theguardian.com was reporting in August 2017.
Already since last summer, local authorities did everything they could to put the procedure on… fast track by beginning to collapse cliffs near and around the citadel. Back then, the answer was that "rocks were broken off 'for safety reasons', but it became clear how helpful their move would be in pushing local population to flee the place, and later have it empty and ready for the upcoming project's start.
The only well-known public figure who denied accepting the "good purpose" of the project was an MP with the Peoples' Democratic Party (HDP), from a nearby province, Mehmet Ali Aslan. Watching the demolition, Aslan had then told DW that, "When historical sites are attacked like this, I believe it's a terrorist act." Courageously enough, the Turkish politician even chained himself to a rock in the Hasankeyf Valley, forcing demolition workers to temporarily stop what they had been assigned to do.
Photo: Mehmet Ali Aslan, 2017, HDP English-Twitter
What matters greatly but is not often mentioned due to the ongoing political and social conflicts in Turkey between Turks and (many of the) Kurds who live in the country, is that, right now, Hasankeyf is basically populated by Kurdish people.
Although the Ilısu Dam (at least 20 years in the making due to the controversy it has sparked) has been planned to offer hydroelectric power production, flood control and water storage and is one of the 22 dams in total, of the Southeastern Anatolia Project, once operational, would mean nothing else but the removal of locals, without any plan, whatsoever (at least until now) regarding their new homes or the place these would be.
Under the circumstances, assumptions are dangerous and totally unnecessary. Still, however, shouldn't Turkish officials explain why such a rush regarding a very long dam-construction-process which, apart from the natural and historical heritage, will put also local citizens in grave danger of being left without a roof over their heads, and very soon so? Many questions remain unanswered, while (mainly) foreign experts wonder if Turkey's decision to move on with the dam is constitutional, respects the human right to culture (UN Human Rights Council Resolution 33/20) and its own citizens.
Hasankeyf and its future have taken centre stage since 2009. Nevertheless, as mentioned above, very few things have been mentioned in connection with the Kurdish population in the area, causing way more questions.
Photo: The first Global Action Day for Hasankeyf, in September 2015, hasankeyfmatters.com
Protests in Turkey have been suppressed under emergency rule…/IBNA
Photo: Hasankeyf